Tyronn Lue's message to the Cavs: You guys need to get in shape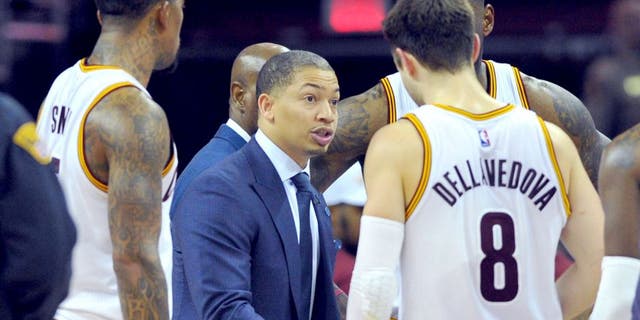 So how are the Cavaliers going to like their new head coach when their tongues are hanging out at the next practice?
After Cleveland's 96-83 loss to the Bulls on Saturday, which drew boos from the home crowd in Tyronn Lue's debut as the head man on the bench, the new boss said part of the Cavs' problem is their conditioning.
"I don't think we're in good enough shape," Lue said. "Early, we wanted to push it, we wanted to open the floor and we came out and did that and then we just dropped off the map. We got tired. I just don't think we're in good enough shape right now to play in the style that we want to play."
What is that style? Not jogging up the floor, for one thing.
"I think we play the second-slowest in the league as far as pace," Lue said (via Reuters). "The vision I have for this team is we have to utilize Kyrie and LeBron's one-on-one ability in the open floor. We haven't been accustomed to playing that way; it's something new. I have to do a better job of getting guys in shape."
If it's a priority to get Kyrie Irving and LeBron James off and running, where does that leave Kevin Love? The optimistic view: He's throwing outlet passes springing them on the break. The pessimistic view: Lue's comments do nothing to quell the talk about how Love has become a weak link whom the Cavs might be better without.
The Associated Press contributed to this article.