Tyronn Lue on recent criticism: 'Look, they ridiculed Jesus Christ'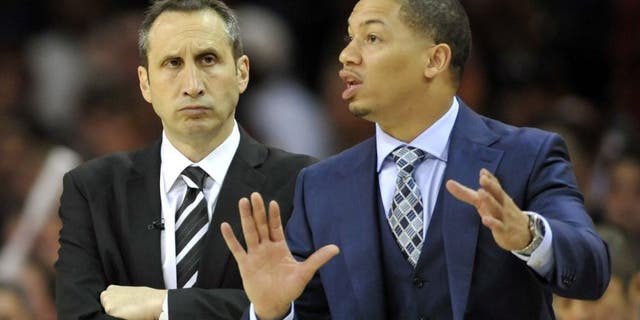 When the Cavaliers fired David Blatt in the middle of a season where the team had a 30-11 record and was in first place in the East, it raised more than a few eyebrows.
There had been reasons dating back to last season why the coach may not have been a fit with the players on the roster, but the results seemed to be there, at least on the surface.
So, when associate head coach Tyronn Lue was given the job as Blatt's replacement, there was a segment of fans that believed he and LeBron James may have been working behind the scenes to undermine the team's previous head coach.
According to Lue, that couldn't be further from the truth, and he remains in contact with Blatt to this day.
"Look, they ridiculed Jesus Christ, so I'm certainly no exception," Lue said, via Cleveland.com. "I don't care what's being said. I know how loyal I was to Coach Blatt and the people that know me understand that. I have no control over what people think. I have a job to do and I'm going to do my best."
"Me and Blatt are cool," Lue said to Cleveland.com. "We've spoken a few times since [he was let go]. I text him a few days ago, so it's not what people want to think. To say I was doing things behind the scenes to get this job is crazy. This job? A team that's in first place? Come on. As long as Coach Blatt supports me, that's all that matters."
Lue may have jokingly referenced Jesus here, but his ongoing relationship with Blatt would appear to show that he was certainly no Judas.