Tyronn Lue, Luke Walton could be the All-Star game coaches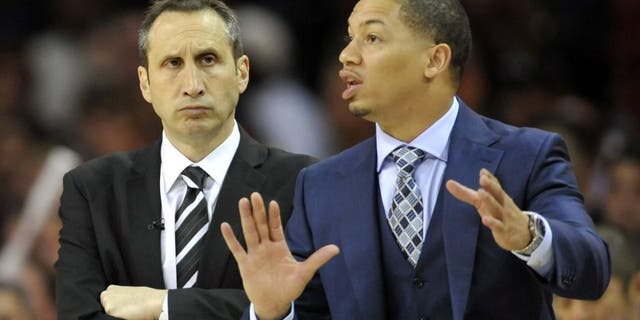 Some unprecedented situations with NBA head coaches this season have made for some tough decisions in the league office, and there's another one looming as the All-Star game approaches.
All-Star coaching staffs come from the teams that have the best record in their respective conferences by the cutoff date, which is Jan. 31 this season. The exception is if that coaching staff earned the honor in the previous season, in which case the coach would come from the team with the second-best record instead.
Here's where things get tricky: David Blatt guided the Cavaliers to what's currently the best record in the East at 30-11, but he was fired by the team on Friday, for at least three pretty good reasons. Tyronn Lue hasn't won a single game yet, but the league confirmed that if Cleveland still holds the East's best record a little over a week from now, Lue will indeed be eligible to coach the All-Star squad.
The situation is even more murky out West. Steve Kerr is back on the bench for the Warriors, but Luke Walton racked up a 39-4 record that, according to the league's official statistics, doesn't even belong to him. Kerr coached the West All-Stars last season, so Gregg Popovich and the staff of the Spurs should be headed to Toronto this year. But if the league decides that Walton deserves some kind of unofficial credit for the Warriors' hot start, then he could technically coach the West because he didn't do so last season.
A league spokesman told NBA.com that they're reviewing the rules around the West coaching situation to determine what is appropriate, and the most likely outcome would appear to be Popovich and the San Antonio staff receiving the honor. But thanks to a unique set of circumstances, there have been some headache-inducing questions created that have no easy answers.