Tyron Woodley talks wrestling, Johny Hendricks, & cross-training ahead of UFC 192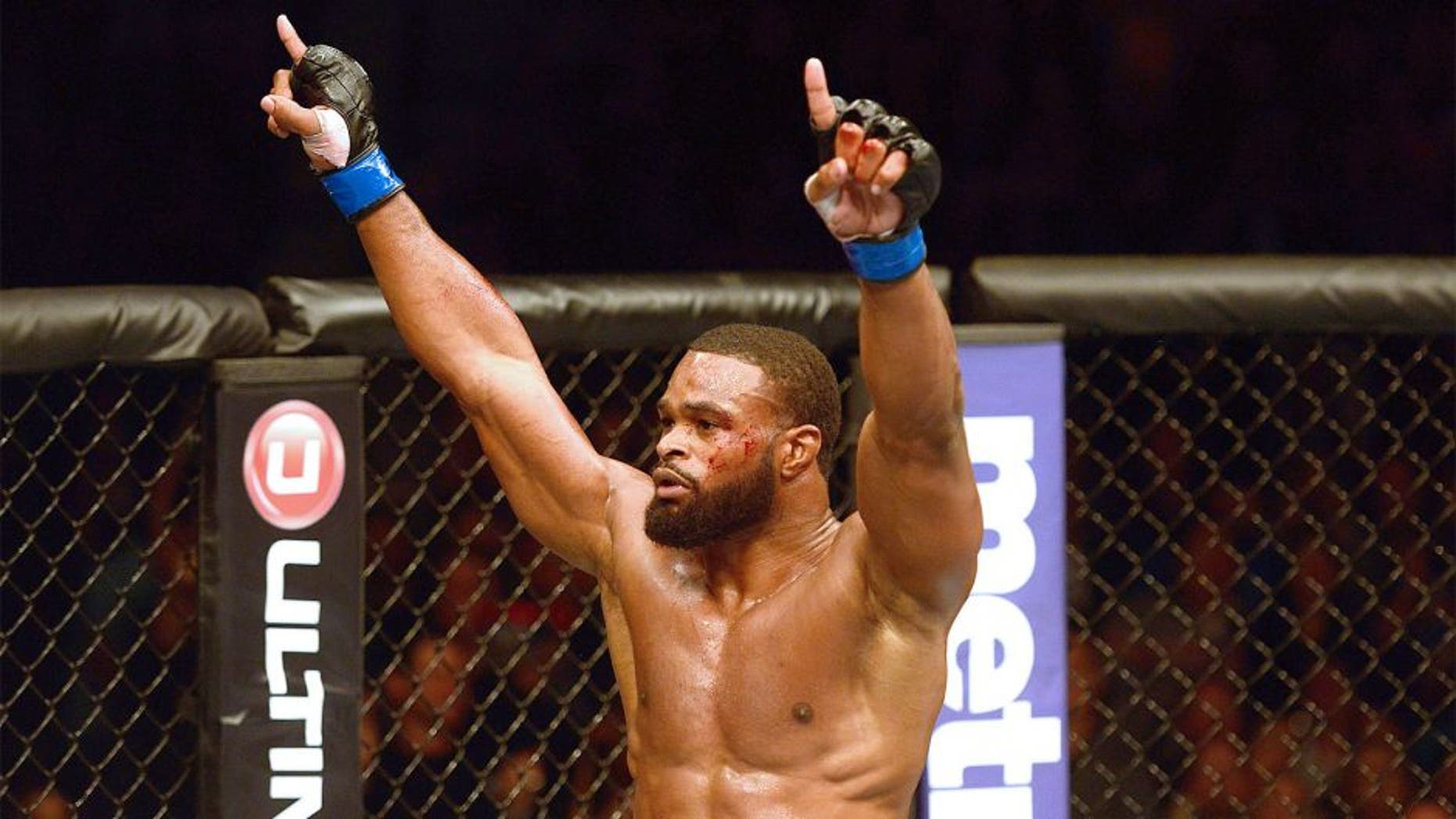 Tyron Woodley and Johny Hendricks' rivalry goes back a decade to when both were standout wrestlers in the NCAA's Big 12 conference. Given that both fighters' base is wrestling, you have to wonder who will have the advantage in that area this Saturday when the two face-off on the main card of UFC 192 in Houston.
Woodley himself admitted to FOX Sports that he doesn't know if he or Hendricks will be the better MMA wrestler, but he is confident that his overall game will get the job done. "I don't know if I even have to be a better MMA wrestler because that's just based on style. He can wrestle guys better than I might be able to wrestle guys," Woodley told us.
"I think I took Carlos Condit down six times, so I could say I'm a better wrestler in that match. I think I just have to be able to time him properly, and defend him properly. I don't know who the better MMA wrestler is. We've got a completely different style of wrestling. Even in college, he was more known to get underneath guys and duck underneath. I was more likely to explode with blast double-legs, lateral drops, slams. So, I was a little bit more offensive with those types of attacks. He understood the game real well and he won more matches. I just hope that I have a better complete game and that my wrestling is better that night."
Woodley, an long-time member of Florida's American Top Team, has spent most of his training camp in Milwaukee working with Roufusport. To prepare for recent fights, Woodley has chosen to go to Milwaukee with his ATT coaches like Din Thomas and conduct his camps closer to his St. Louis home.
To prepare for Hendricks, Woodley spent his first couple weeks of camp at home in St. Louis, working on boxing, and conditioning. Then, he spent a month at Duke Roufus' gym.
Part of Woodley's choice has to do with convenience. "It's a good thing because if I want to drive it, it's a six hour drive. If I want to fly it, it' a one hour flight. I've flown home on weekends to see the family, and flown back. It's not like flying to LA where it's a four-hour flight, two-hour time change, and hell to get in and out of airports...there's not as much stress," he explained.
"I like being close enough where I can go and see my family and reset and recharge before i go back into another week. My Mondays are the hardest days at Roufusport, and my Mondays have been freaking dynamite. I think it's because I went home and retained some perspective. I saw my daughter, saw my sons, went to the gym and everyone' riding for me. I think it just helped me stay focused."
At the same time, Woodley said that he likes Roufus' philosophy, as well as the unique ways training partners like top international welterweight Ben Askren and Anthony Pettis have been able to prepare him.
Woodley was a wrestling teammate of Askren's at the University of Missouri before Askren went on to represent the United States in the Olympics, and "The Chosen One" likes having an old friend who knows him well train him, for example. Also, Roufus' gym provides a less stressful environment for Woodley.
"It is more privatized, intimate training camp with people that are going to stay in character for me. I would have that in Florida, but if you've ever been in Florida, epecially if you're one of the big hitters, they want you to spar in the big cage, and there's a lot of people watching you, and they're all expecting you to do this and this. Even being one of the longest-running members of the team, it's a lot of nerves to spar in that gym," he reveals.
"Ben is one of those guys where, what he thinks of my conditioning, what he thinks of where I'm at I value more than most because he knows me, he knows what I'm capable of. He knows when I'm not giving it my all. That accountability and the ability to wrestle that high-level of a wrestler on a day-t-day basis and get some small clinch work, small cage work, small."
Woodley went on to say that he's also become close with the former lightweight champ Pettis. The ability of "Showtime" to deal with left-handed fighters has a special utility for Woodley.
"When you look at Anthony Pettis, he's dominated almost every Southpaw he's fought against. Duke Roufus' brother [Rick] was a Southpaw. Look at the top 10 in the welterweight diviion. Hector is a Southpaw, Robbie is a Southpa, Gunnar Nelson is a Southpaw, Gastelum is a Southpaw, Johny is a Southpaw. Just think about how many Southpaws are in this division, and for me to go with a guy who knows how to conquer that fight stance, it made sense," he reasoned.
Woodley has clearly enjoyed training at Roufusport, but he maintains his ATT membership. According to the contender, the leaders of the Florida super team like Ricardo Liborio, Conan Silveira, and Dan Lambert support his cross-training. Futhermore, Woodley enjoys improving himself with the huge stable of top-quality teammates in Coconut Creek, in between fights.
"The vibe was good [at Roufusport], it was good energy, great training and I built some good friendships there. There's no ego, and no conflict. They support me being comfortable and at the end of the day I represent American Top Team. If I do well, they do well," he said.
"I'm going to go back and sharpen iron with iron and when I spar with Will Brooks, or Thiago Alves, or Gleison Tibau, or anybody, they can be themselves, I can be myself and we can help each other get better and it's not so much with the anxiety of a training camp, making Thiago look like a Johny Hendricks when he's really fighting Benson Henderson. That doesn't make sense for him or me."