Tyron Woodley: 'Straight Outta Compton' will live on forever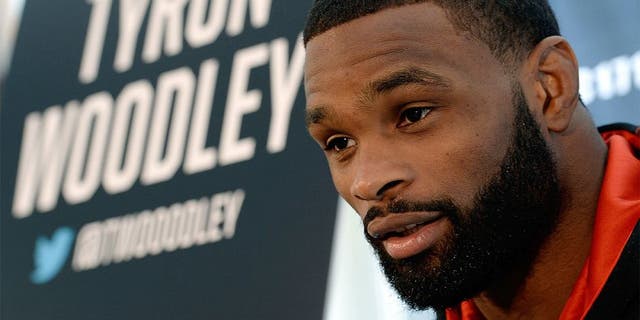 NEWYou can now listen to Fox News articles!
Tyron Woodley recently joined Ronda Rousey in the exclusive club of current UFC fighters who have been a part of movies making over $100 million in 2015 after "Straight Outta Compton" crossed that mark while remaining the No. 1 film in the country for the second straight week.
Rousey played a part in "Furious 7", which came out earlier this year, and Woodley landed his biggest role to date playing T-Bone from Da Lench Mob in "Straight Outta Compton".
Woodley was extremely excited to be a part of such a well-received film where critics and fans have been overwhelmingly positive to the entire movie.
Crossing the $100 million threshold in just the second week of release is a big deal as well, especially considering "Straight Outta Compton" was produced for just $29 million.
"For a movie to do $100 million is a big deal. People don't realize how handsome those residuals can be when you hit that arc," Woodley told FOX Sports. "I remember "Olympus Has Fallen" hit $90 something million and we were ecstatic because they didn't expect it to do that well. But to hit that on the second weekend, that's like a Marvel movie so it's really exciting to me.
"Not only because of the numbers but the editing and how they made it really authentic. They found time to put in some humor and they found times to make it dramatic. I know some grown ass men who cried when Eazy-E died. I was overly impressed with the movie."
While acting is still a secondary job for Woodley with his main focus still on fighting for the welterweight title in the UFC, he loves having the chance to perform in roles like the one he had in "Straight Outta Compton".
Woodley has done stunts in several other movies and appeared on television shows such as "Agents of S.H.I.E.L.D." as well, and every gig comes with its own challenges that just teach him how to be a better actor. Woodley knows he can't fight forever so he's planning ahead while getting better and better at his new craft with every film or TV project he lands.
"So many things I can learn and acting is a little bit out of our realm. I mean you might have some guys who are doing some acting to build up a fight, but to actually read sentences and paragraphs and make those things come to life, with body motions, breathing, the way you deliver the line, it's really an art," Woodley said.
"People watch a Will Ferrell movie and they can quote it word for word and it sounds just like Will Ferrell, but guess what -- Will Ferrell didn't have someone to listen to. He had a piece of paper and a script that told him what to say. He has to read that and put himself in the moment and that's extremely difficult."
To get ready for "Straight Outta Compton", Woodley didn't need to look any further than the streets of his own hometown in Ferguson, Missouri for inspiration on how to act and react in a movie that primarily takes place between the late 1980's and early 1990's in a racially charged section of South Central, Los Angeles.
Ferguson was embroiled in a series of protests and unrest after an African-American was shot and killed by a white police officer in the area. Woodley lived in the same places where the protests took place and many of the scenarios that unfolded in the film were the same kinds of things he saw everyday growing up.
"For 'Straight Outta Compton', I just thought of Ferguson," Woodley said. "Like if somebody owed me money or I was in a fight or I was about to get jumped or some hood type stuff and it was about to pop off and this is how we carried ourselves.
"I just put myself in that moment and it was very easy for me."
A big part of "Straight Outta Compton" focuses on the members of the seminal hip-hop group N.W.A. and their tumultuous relationship with law enforcement before, during and after they came to prominence. Many of the film's biggest moments pit the group against police officers in one adversarial situation or another.
Those same types of conflicts still exist today and Woodley sees how "Straight Outta Compton" will be the kind of film explores the history of this particular rap group but also carries with it a bigger morality tale that is still very relatable in this day and age.
"Yesterday in St. Louis, somebody else was killed. It was quiet and nobody heard about it, but four or five other people have died," Woodley explained. "Some people are drawing weapons on police officers when their job is to protect and serve, but also the main goal is to go home alive. It's a vicious cycle of beating the stereotype whether it's racially driven police officers, who have it in their minds that an African-American in this neighborhood, dressed a certain way is probably up to these types of things or the citizens not trusting or respecting the authority and not committing to the police officers trying to protect and serve.
"It's wrong on both parts. It's a crazy time and this world, we've kind of lost it a little bit."
The movie not only tackles the history of the rise and fall of N.W.A, but also focuses on these important social issues that remain relevant in 2015, and Woodley sees that as just another reason why "Straight Outta Compton" will likely live on forever.
"It makes it more important because it's going to be an iconic film, it's going to be a classic," Woodley said. "When you look at the other biopics or what happens in the inner city -- 'South Central', 'Boyz N the Hood', 'New Jack City', 'Menace II Society' -- this surpasses all those movies. It can stand by itself. It's a movie you can watch 10 or 20 years later and it's just as moving."
Woodley isn't just in the movie either -- he's also a fan. While he got paid to play a part in the film, Woodley is more than happy to give back some of it to go see "Straight Outta Compton" multiple times while the movie is still in theaters.
"I watched it a second time just to watch it," Woodley professed. "And I'm probably going to watch it a third time!"