Tyron Woodley explains why fights against GSP, Bisping and Diaz are so important to him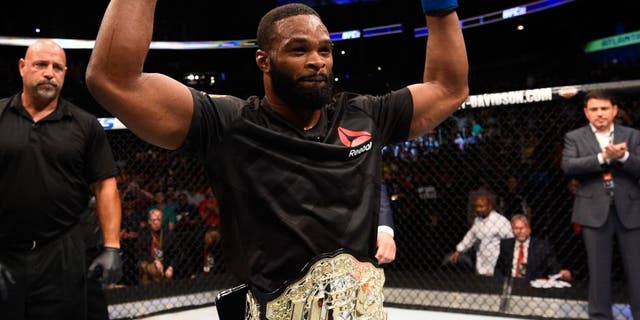 Immediately after dethroning Robbie Lawler to win the welterweight title last July, Tyron Woodley called for fights against names such as Georges St-Pierre and Nick Diaz.
More recently, Woodley was also tied to a potential showdown with middleweight king Michael Bisping after the two engaged in some back-and-forth chatter about possibly facing off in a "champion versus champion" super fight.
Ultimately, Woodley ended up facing Stephen "Wonderboy" Thompson at UFC 205, which resulted in a draw, and now they are set to meet again at UFC 209 in March. But he's never given up on landing those marquee fights in the future.
Despite living in the age of the "money fight," Woodley insists that his preference to face a former champion like St-Pierre or a highly regarded welterweight such as Diaz is more about legacy he'll leave behind than the paycheck he would make.
"Legacy is really important to me," Woodley told FOX Sports. "It's more important than dollars to me. So with that said, I try to find the fights that would solidify my legacy. Beating (Michael) Bisping, winning two belts in two divisions, maybe starting a rivalry and controversy with a fighter and then also knocking off legends like Nick (Diaz) and GSP.
"Those sort of things solidify me and also yeah it puts me in the position to maximize myself as far as being awarded the highest purses. So I'm just trying to kill two birds with one stone."
Woodley has already accomplished a lot during his career, but now that he has the UFC title around his waist he wants to add even more to his resume over the next few years.
In the pantheon of great welterweights to compete in the UFC, the list typically starts with St-Pierre and former champion Matt Hughes. While Hughes has long since retired, St-Pierre has teased his comeback for the past year and Woodley wants that challenge because he hopes to one day be regarded in the same conversation as the two longest reigning welterweight champions in UFC history.
"I'd like to take a crack at being the best welterweight that's ever fought," Woodley said. "A lot of people don't understand my reasoning behind wanting to fight big fights and big names.
"Knocking off these big names in fights really solidifies me as the best welterweight that's ever done it. Fighting Georges St-Pierre really puts the exclamation point at the end of it. It sounds like (GSP) is serious about coming back and I don't think it should be a question of anybody fighting him before me."
Of course, Woodley has also faced criticism for asking to fight St-Pierre, Diaz, Bisping and others while top contenders such as Thompson or Demian Maia are waiting in the wings to challenge him.
Woodley already faced Thompson once and he'll do it again at UFC 209. He's also sent messages to Maia with an invitation to fight as well so clearly Woodley isn't trying to duck the challenges that are standing directly in front of him.
At the same time, Woodley knows that his requests have been met with backlash while other superstars such as Conor McGregor have been applauded when asking for the same exact concessions.
Woodley holds no ill-will towards McGregor or any other fighter trying to solidify their legacy in the sport, but he's also smart enough to see how the game is being played.
"Just to be blatantly honest, everyone occupies in a different set of rules," Woodley explained. "Ronda Rousey operates in a different set of rules than Conor McGregor. Conor McGregor operates under a different set of rules that Jon Jones. There's something about somebody who does something special in the UFC that they're allotted certain freedoms and wiggle room around the rules.
"I'm just not in that category. So if I want to fight Georges St-Pierre or Nick Diaz or Nate Diaz then it's all the hooplah and all the talk about it."
Regardless of the reaction, Woodley even getting the conversation started for potential showdowns against fighters such as St-Pierre or Bisping shows that he's serious about staking his claim to one day being hailed as the best of all time.