Tyron Woodley explains why Demian Maia made a 'bad move' fighting Jorge Masvidal at UFC 211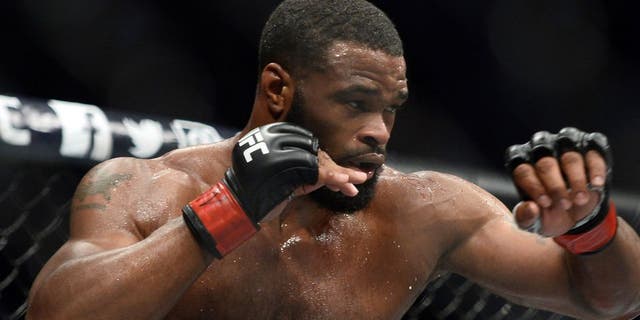 Weltewreight champion Tyron Woodley is still anxiously awaiting a confirmed opponent for his next fight, but the most likely contender in the division is still one more win away from that opportunity after Demian Maia accepted a bout with Jorge Masvidal at UFC 211.
It was a strange twist that the fight between Maia and Masvidal was announced just days before Woodley defended his belt against Stephen "Wonderboy" Thompson at UFC 209 in March.
At the time, Maia appeared far and away as the No. 1 contender at welterweight after reeling off six straight wins including submissions over former interim champion Carlos Condit and Matt Brown in recent fights.
Of course, Maia has stated that the UFC wouldn't guarantee him a title shot while he was sitting out awaiting the winner of Woodley and "Wonderboy", the current champion believes he made a mistake by accepting the fight with Masvidal rather than allowing UFC 209 to play out first.
"Unfortunately for Maia, he accepted the fight the week of me and "Wonderboy"s fight. In my personal opinion, bad move. Wait and see how the fight went. If nobody came out of the fight hurt, a clear winner, not another draw, you're already in a position to fight for a world title," Woodley said on the latest " UFC Undisputed" podcast. "Why would you put yourself up against the worst possible matchup outside of a title fight? Why would you put yourself in that position?
"Gamebred" [Jorge Masvidal] is very tough to take down. He has great hand speed, great boxing. For Maia to win this fight he has to take him down and not only does he have to take him down, he has to advance and potentially be forced to submit him."
Josh Hedges/Zuffa LLC/Zuffa LLC via Getty Images
Now Woodley admits if anybody is going to pull off a submission against Masvidal or any other welterweight in the division, Maia probably has the best chance.
Maia is a multi-time Brazilian jiu-jitsu grappling champion with nine submission victories during his UFC career already.
Still, Woodley can't be certain that Maia will find a way to drag Masvidal to the mat considering just how good his training partner from American Top Team has been stuffing takedowns throughout his career.
"Now if anybody's going to pull off a submission, we all know Demian Maia has to be the top four or five guys that are currently signed in the UFC so therefore he has a chance. Nobody's going to say he doesn't have a chance. But on paper, I don't know how he's going to get the fight to the ground," Woodley explained.
Maia will enjoy a size advantage over Masvidal as a former middleweight title contender, who is now competing at 170 pounds. Meanwhile, Masvidal has moved up in weight after spending the majority of his career as a lightweight.
While size might help Maia in some regards, Woodley doesn't see it being a determining factor in the fight with Masvidal. The welterweight champion believes it really just comes down to Maia surviving Masvidal on the feet and then finding some way to get him to the ground by any means necessary.
"I don't think the weight's going to have anything to do with it. It's a timing and distance issue," Woodley explained. "If Masvidal has the ability to use his hand speed and footwork to create combinations and get in and get out, then [Maia] won't have the chance to put that weight on him. To grab him and to clinch him.
"His best bet in my opinion is to lunge in on a single leg, pull half-guard and go to work."
Whether it's Maia who comes out on top or Masvidal getting the victory, Woodley will be watching while still waiting on word if the winner will be challenging him for the title next or if the UFC has another trick up their sleeves.
For now, Woodley is just training and preparing for a fight in July but as of now nothing is official.
"When we announce the fight," Woodley teased, "that means the contract is signed."
Mark J. Rebilas | Mark J. Rebilas-USA TODAY Sports