Tyrod Taylor on being Bills' franchise QB: 'I've shown what I can do'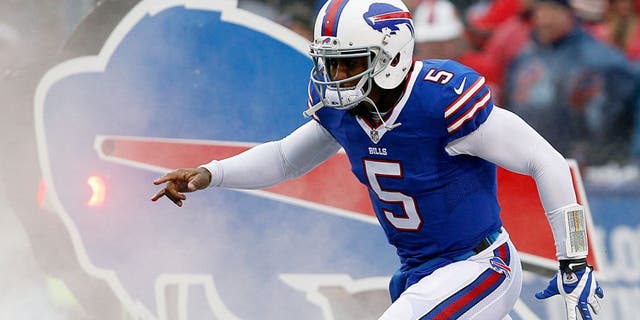 NEWYou can now listen to Fox News articles!
Last offseason, the Buffalo Bills took a chance on unproven quarterback Tyrod Taylor, signing him to a low-risk contract during free agency. Taylor made the most of his opportunity early on, beating out EJ Manuel and Matt Cassel in training camp. He continued to play extremely well, starting 14 games and posting a 99.4 passer rating.
Now, the Bills have fewer questions to ask at quarterback, but one that will be brought up fairly frequently is whether or not Taylor is the Bills' franchise quarterback. With just one year as a starter under his belt, it's a fair question to ponder. One thing's for sure, though, Taylor believes he can be.
Via Tyler Dunne of the Buffalo News:
One of Taylor's best attributes is his ability to protect the football. He turned it over just seven times, six of which were interceptions. That was one of the worries many had when he was named the starter, given his willingness to scramble and make plays with his legs.
There's a fairly good chance that the Bills will still take a quarterback in the upcoming draft, even if it's in the later rounds. Taylor is under contract for just one more season and his performance in 2016 will prove to be crucial in determining if he was a one-year wonder or a starting-caliber quarterback.
The Bills will also need to see if he's a winning quarterback. He had the 31st-ranked quarterback rating in the fourth quarter when trailing by eight points or more. He he to prove that he can win late and lead his team to comeback victories -- something he failed to do this season.