Tyler Dorsey gaining steam as Oregon's Mr. March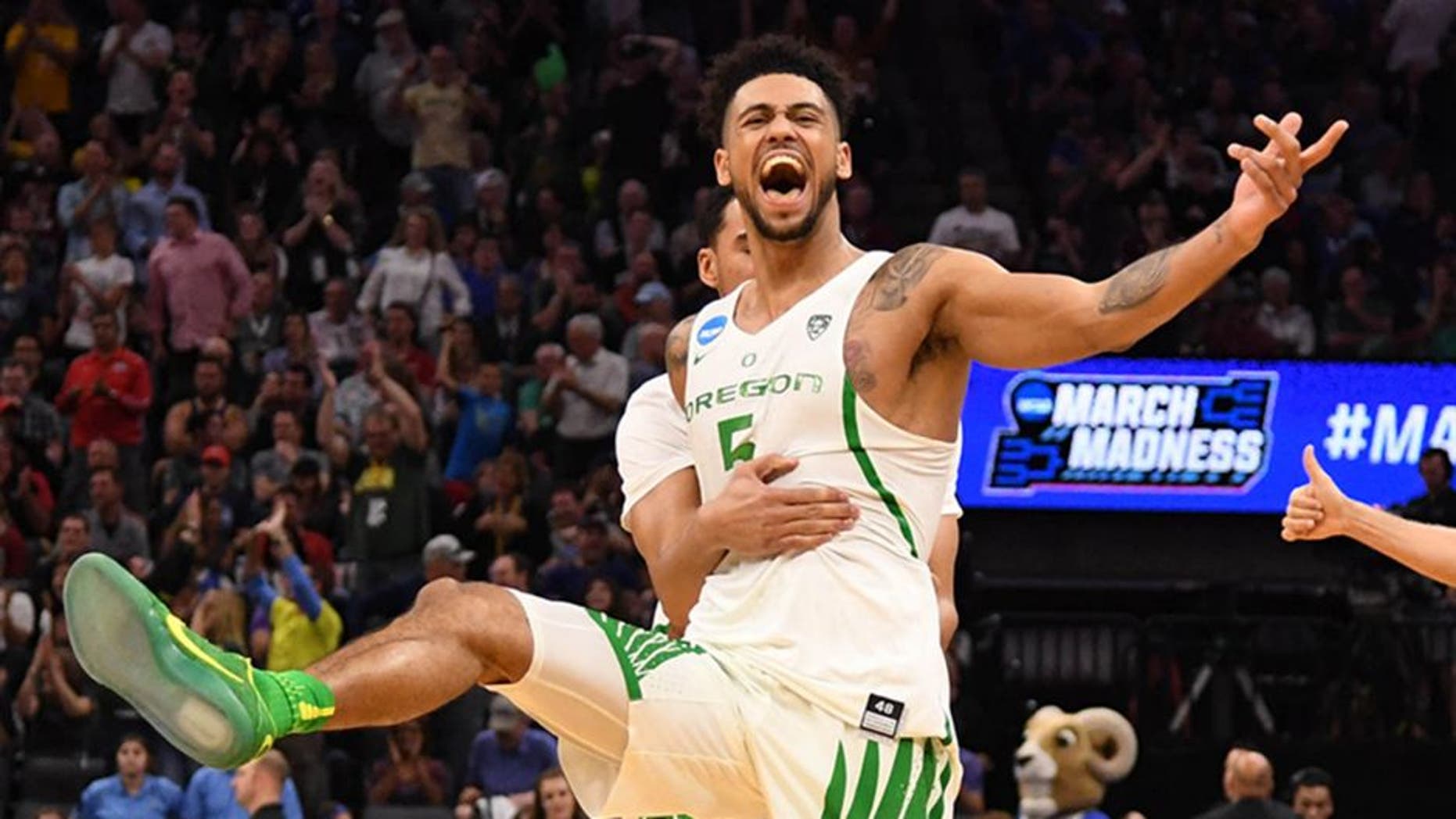 SACRAMENTO, Calif. -- At a news conference Saturday previewing his team's second-round game against Oregon, Rhode Island coach Dan Hurley referred to Ducks star Tyler Dorsey as a "national player of the year candidate." Presumably Hurley confused Dorsey, an honorable mention All-Pac-12 selection, with teammate Dillon Brooks, the Pac-12 player of the year.
If the vote were held today, however, Dorsey may well have a shot.
Oregon's sophomore saved his team from an upset defeat and added another chapter to his thus-far dominant run of postseason performances here Sunday. His pair of 3-pointers in the final two minutes lifted No. 3 seed Oregon from a three-point deficit to a 75-72 win over pesky 11th seed Rhode Island; and with 27 points -- on 9-of-10 shooting -- Dorsey notched his fifth straight 20-point game since the start of the Pac-12 tournament.
"I was joking with him, 9 for 10 -- how the heck did you miss that one shot?" said Oregon coach Dana Altman."
Dorsey has emerged as one of the early stars of this tournament. He'll run into a couple of others, Michigan's Derrick Walton Jr. and Mo Wagner, when the teams meet next week in the Sweet 16 in Kansas City.
But first, Oregon had to get there.
Rhode Island, lifted by a surprisingly large and boisterous cheering section so far from home, led nearly the entire second half, by as many as 11 points. Their Rams' shots were falling; most of the Ducks' were not. Oregon kept committing turnovers. Rhody did not.
But Dorsey was the Ducks' constant. He scored 13 of Oregon's final 23 points, stepping up in place of a mostly cold-shooting Brooks, who finished 7-of-20 from the floor. Brooks was Mr. Game Winner for most of the 31-5 Ducks' regular season, but since Dorsey caught fire at the start of the month his teammates say they have been looking for him more.
"That's all I've been doing these last couple games" said Dorsey. "My teammates have been having confidence in me and I've been knocking down the shots."
Dorsey's game-tying 3 with 1:47 left came after Jordan Bell grabbed an offensive rebound and kicked it to the hot shooter.
"When he hit it," said Bell, "I was like, 'We got this.'"
They did, less than a minute later, after Jordan Pritchard got his hand on a Rhode Island pass and deflected it to Bell. Dorsey wound up with the ball just past half-court, dribbled for about 10 seconds, then pulled up from well beyond the arc for the deciding score.
Brooks was the Ducks' undisputed star during the regular season, but since the start of the Pac-12 tournament five games ago he's averaged 23.6 points while hitting a ridiculous 15-of-28 (53.5 percent) 3-pointers.
"The biggest factor is Tyler is a player. He's not just a scorer," said Altman. "I thought for a while he locked in on his offense and we weren't getting him the ball enough for a period in the season and that was my fault.
"… That scorer mentality I want him to have, but defense and rebounding, when he focuses on those two he becomes a special player."
He'll need to be special again next week against the Wolverines.