Ty Dillon still upset about wreck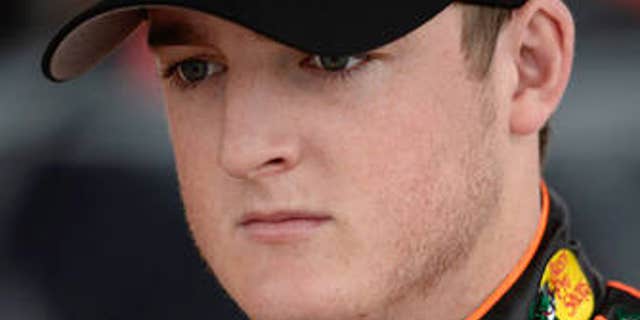 After Chase Elliott wrecked Ty Dillon to win last Sunday's inaugural NASCAR Camping World Truck Series race at Canadian Tire Motorsport Park, Dillon was clearly upset.
Heading in this Sunday's truck race at Iowa Speedway, it's fair to say the youngest grandson of veteran team owner Richard Childress is still a little miffed.
In fact, Dillon won't rule out administering some revenge on his new nemesis - the 17-year-old son of 1988 Sprint Cup Series champion Bill Elliott - if the opportunity presents itself.
"I'm definitely not going to leave it unturned," Dillon said in an exclusive interview with FOXSports.com. "It might not happen this week, it might not happen this month, it might not happen this year, but there will be a time that comes that he'll feel the rebuttal of it. I obviously wasn't happy about it, and the time will come, but right now I'm focused on next week."
Dillon sits third in the truck standings, but stood to make considerable gains on leader Matt Crafton with a win on the road course in Canada. Instead, the Richard Childress Racing driver lost ground and finds himself a substantial 63 points in arrears of the leader with eight races left on the 2013 truck schedule.
The fact that Elliott - a Hendrick Motorsports development driver - is running only a limited schedule this year, made the incident all the more frustrating for Dillon, who immediately after the race said he hoped Elliott would be competing at Iowa because "he won't finish the race."
Elliott, turns out, is slated to run in Sunday's Fan Appreciation 200 presented by New Holland. As of Tuesday afternoon, Elliott and Dillon had not spoken since their run-in north of the border.
"I figured he would have been smarter and knew the situation that he was in with racing at the end of the race, and given me the benefit of the doubt with the championship," Dillon said. "I kind of lost some respect this past weekend for him. I felt like he would have understood a little bit better, but he's young and he'll just have to learn - the hard way, I guess."
Immediately after the race, in which he became the youngest-ever truck winner, Elliott said he didn't want to wreck Dillon but added, "Sometimes you gotta do what you gotta do to try to get to victory lane."
Dillon was surprised by the aggression of Elliott, whom he had ironically gotten to know earlier this year at a road-course driving school where both youngsters were participants.
"I figured he would try to make some kind of move," Dillon said. "I didn't figure he would just hit me in the right rear quarter panel and not give me a shot at all of trying to make it across the finish line, so that was the main thing that upset me. I was very upset after the race.
"We ran so hard and we're battling for a points championship and to be taken out like that and lose points on a day when we should have gained possibly 20 points is just very disheartening and it's hard to kind of keep your cool after that, but I think everything was alright and I think he got the message that I was trying to deliver to him."
Dillon, whom it was recently announced will be moving to the Nationwide Series fulltime in 2014 competing for his grandfather's organization, is extra-motivated to capture a truck title this year.
In addition to this being his second and, presumably, final full season in NASCAR's No. 3 series, Dillon would like to follow the path set by other brother Austin, who won a title in his second truck season before being promoted to Nationwide.
Austin Dillon is expected to jump to the Sprint Cup Series in 2014, driving for RCR, with Ty filling Austin's current Nationwide seat.
"I'd love to be able to put the truck season away with a championship and be able to move on to Nationwide fulltime next year knowing that we had a championship in the trucks like my brother did, and run for a championship in Nationwide, but that will all do with time," Ty said. "All I can do now is just focus on winning races throughout the rest of the year and gaining as many points as possible."
Ty believes Iowa, where he has two top-10s (including a second-place finish last September) in three starts, is fertile ground for him to cut into at Crafton's lead and also pick up points on second-place James Buescher, who sits 47 points out of first.
"I'm very excited going back to Iowa," Dillon said. "We ran rally great there last year and led most of the laps in the race and had a really dominant truck and ended up not getting the finish we wanted, but I have a lot of confidence going to that racetrack. It's always been a great track for me, so any time we roll into Iowa I always roll in with a lot of confidence and ready to go win the race."