Ty Dillon admits driving No. 14 car equals 'high expectations'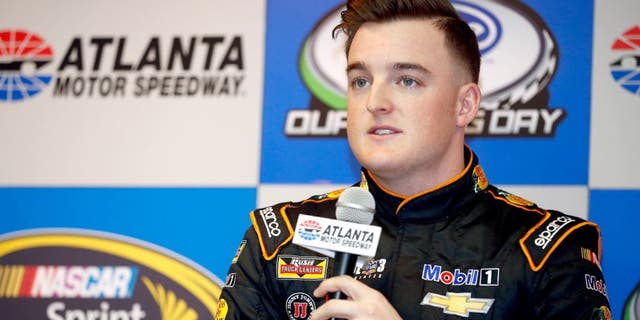 As Ty Dillon drives the No. 14 Stewart-Haas Racing Chevy of injured Tony Stewart this weekend at Atlanta Motor Speedway, the full-time XFINITY Series driver admits "it's different" being in the car of a three-time Sprint Cup Series champion.
Stewart, who is recovering from back injuries suffered in a non-racing incident on Jan. 31, is out indefinitely but is expected to return later this year. Brian Vickers drove the No. 14 car throughout Daytona Speedweeks and will be back in the No. 14 next weekend at Las Vegas Motor Speedway.
This weekend represents a big opportunity for 23-year-old Dillon, who is expected to drive the car again, although nothing has been finalized.
"It's a huge weekend," Dillon said on Friday morning at AMS. "First of all, I have to thank Stewart-Haas Racing for the opportunity to be in the 14 car. I think everyone wants to see Tony in this car. With those unfortunate circumstances, I was able to be in the car this weekend, which is good for me to get the experience in such great equipment. I can't thank them enough for the opportunity. It's an honor to drive the 14 for Tony.
"I have high expectations for this weekend. I said it earlier in the week that I always set my goals high. I want to run good in this car. I want to do good for Tony and Stewart-Haas Racing. I don't see why we shouldn't be able to run in the top 10 or top 15."
The grandson of legendary team owner Richard Childress is in his third year in the XFINITY Series, driving for his grandfather's company, Richard Childress Racing, and will be pulling double duty this weekend at AMS.
"Everything is different for me," Dillon said. "I've been used to having one company my whole life that I've worked with. This whole week I've been at Stewart-Haas, talking to those guys and getting to know them. It's been great and an awesome experience for me to.
"It's helped me grow not just as a driver but as a person and learning how to go about things different. I'm excited for what this brings. It's definitely a different feeling coming into this weekend, but it's not a worse feeling. It's really good."
Childress had hoped to put his youngest grandson in a fourth RCR car this season, but sponsorship didn't pan out. The six-time Sprint Cup champion team owner is glad to see Dillon getting a chance with SHR, in addition to running several Cup races in 2016 for Circle Sport-Leavine Family Racing.
"I think it's a great opportunity for him to go out and run and work with another organization. Stewart-Haas does such a great job," Childress said this week on SiriusXM NASCAR Radio. "I think Ty will do good. Anytime you step in with a new group of guys, it's a little bit of a learning curve, but I think what he's going to learn from working with other people is going to be very valuable to him stepping forward in the future."
Of course, one of the drivers Dillon will be competing with this weekend is older brother Austin, a third-year Cup driver for RCR.
While it's not the first time the two siblings have raced against each other, it is the first time they've raced against each other while driving for rival teams.
"I had to make sure it was OK for my friends and everybody to pull for Stewart-Haas Racing this weekend," Ty said. "They had to ask my mom if it was OK, and she said it was good. Every time we race in any series, there are always bragging rights between us.
"Even if it's not said between us, we're always trying to beat the other one. It'll be fun this weekend, and hopefully we beat them."