Two more freshmen have their stripes removed for Tennessee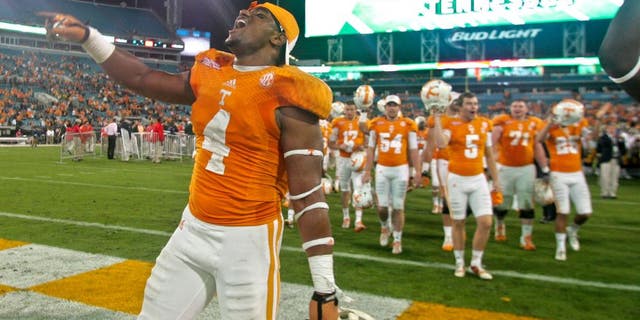 The maturation continues in fall camp as Tennessee now has had seven newcomers have their black stripe removed from their helmet. The latest to join their place among Team 119 were freshmen defensive back Micah Abernathy and offensive lineman Venzell Boulware.
Butch Jones broke the news following Tuesday's practice session.
"We had two individuals have their stripes taken off today, Venzell Boulware and Micah Abernathy," Jones said. "They had the opportunity to address the team and did a great job with that."
Jones was then asked what the two players said to the team. Without getting into much detail, Jones appeared to be pleased with the culture now in place with his program and with two more talented players taking the right approach to building the team, the foundation only got stronger in Knoxville Tuesday.
"Well, everyone's different, and that's kind of between the team," Jones said. "But they always talk about the older players really teaching them the culture, the standards, the expectations, [helping them] schematically, techniques. That's been the great thing to see, is [that] they all talk about the older players and what they've meant to that in their overall development, and just how proud they are to be a part of this football team and this football program."
Their head coach hasn't been the only one impressed with the freshmen. Sophomore corner Emmanuel Moseley was very complimentary of Abernathy following practice Tuesday.
"He's done a good job and he's showed a lot of effort," Moseley said. "He's a very smart guy, always in the film room, always calling on us asking us what are we doing this, what are we doing that. He wants it. We like that about him."
While fellow sophomore Jashon Robertson appreciated the effort displayed by Boulware on the practice field of late.
"He's really stood out in the fact of his demeanor," Robertson said. "Since I've been here I haven't really seen a young guy like him play with the amount of effort that he plays with. So it's a great thing he's doing. It might not show up from the stands, but it's wowing in the film room. Everybody notices it."
With recent season ending injuries suffered in the Vols' secondary and offensive line, both these players are likely to see the field often this fall, if they can continue their progression. They took a big step to making an impact for a team hungry for success after gaining a small taste in 2014.
Could either one of them by Tennessee's next impact freshman?