Two Louisville football players shot at party celebrating teammate's Heisman win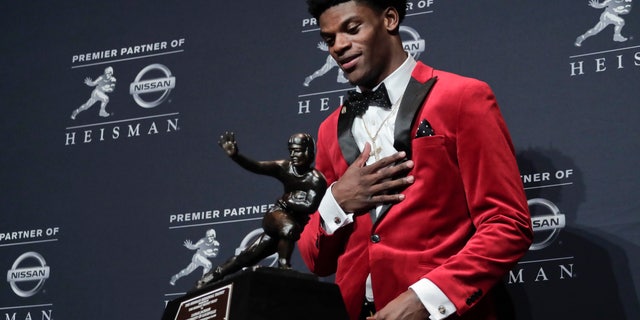 NEWYou can now listen to Fox News articles!
Two University of Louisville football players are recovering after being shot, just after their teammate wins the Heisman Trophy.
SUSPECT BARRICADED IN HOTEL AFTER NASHVILLE POLICE OFFICER SHOT
LMPD continued to patrol "The Retreat" off-campus housing complex on Monday morning after three people were shot there around 2 a.m. Sunday. Instead of celebrating Lamar Jackson's big win, many U of L students were on edge.
"It doesn't feel safe that there's a shooting happening inside the gates where I live, basically right across the street from me," Clayton Crum said. Crum lives inside The Retreat complex.
MLB BANS HAZING RITUAL OF ROOKIES DRESSING AS WOMEN
Students living there say the shooting happened at a party for Lamar Jackson's Heisman win. A historic night of celebration turned violent, as sources close to the University of Louisville football team say two of Jackson's teammates, linebackers James Hearns and Henry Famurewa, were shot.
"Which is sad because it kind of takes away from the significance of Lamar's Heisman win, which is kind of upsetting to the city," Crum said.
An unidentified female was also shot and the university has confirmed she is not a student. All three victims are expected to survive. Students though, are still unsettled that something like this happened inside their gated community.
"It's easy enough for people to get in and do this kind of stuff, even though they make a big point of gating it, it's definitely not what you want to see," Aaron Keith, a sophomore U of L student who lives nearby, said.