Two Cuban baseball players defect in Puerto Rico during Caribbean World Series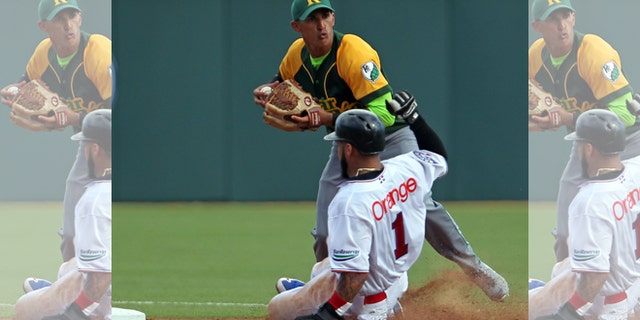 NEWYou can now listen to Fox News articles!
SAN JUAN, Puerto Rico – The Cuban team announced on Wednesday that two players from its squad in Puerto Rico for the Caribbean World Series have defected mid-tournament.
The defections took place on Tuesday night, after the team lost its second consecutive game and returned to its hotel.
The players involved are the 19-year-old pitcher Vladimir Gutiérrez and 29-year-old shortstop Dainer Moreira. Gutiérrez had not yet played in the series, while Moreira batted in Cuba's only run against the Dominican Republic.
"They decided to leave the hotel," the national director of baseball in Cuba, Heriberto Suárez, told USA Today.
"We are very disappointed," he added. "But this will serve as a platform for us to carry on stronger and more unified. We will continue giving our best and will return to Cuba together."
After the defections, Cuba defeated Puerto Rico 3-2 Wednesday night after losing its first two games against the Dominican Republic and Mexico.
The players' apparent decision to abandon their team to stay on American soil comes amid moves to improve U.S.-Cuba relations, with Major League Baseball on Tuesday eliminating its requirement that Cuban players obtain a license from the U.S. government before they are eligible to sign with big league teams.
"That decision is a betrayal to the revolution, to their family, to their homeland. It's an exchange of shame for money," Jorge Polo, vice president of Cuba's National Institute of Sports, Physical Education and Recreation, said in a statement published by Cuba's state media.
Juan Francisco Puello, commissioner of the Caribbean Confederation of Professional Baseball, said in a statement that the confederation will not get involved.
"This is a private matter," he said. "They are under no obligation to report anything to us."
Some Cuban athletes have previously used international competitions as an opportunity to defect. Puerto Rico is an American territory, and Cubans who make it to the island generally can apply for legal U.S. residency.
If they stay in Puerto Rico, the players would be subject to baseball's amateur draft and their rights would be controlled by one major league team. But if they establish residence outside the U.S., Puerto Rico, or Canada, they can be free agents and get more lucrative contract offers.
Based on reporting by the Associated Press.
Like us on Facebook