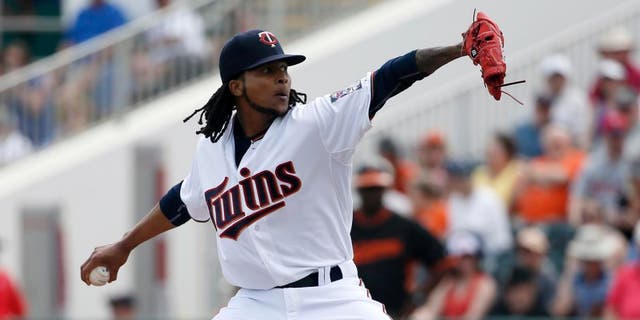 NEWYou can now listen to Fox News articles!
Ervin Santana has fallen hard in August, but in his next start he'll try to keep the Minnesota Twins from falling any further in the wild-card race.
The slumping Santana and the Twins will go for a series win at home Sunday against the AL West-leading Houston Astros.
After Minnesota (66-63) dropped 1 1/2 games back of Texas for the AL's second wild-card spot with Saturday's 4-1 loss to the Astros, Santana (2-4, 6.05 ERA) may not be the right man to make up the ground.
The veteran right-hander holds the majors' highest ERA (9.12) among qualifying pitchers since Aug. 3, and has lost four straight decisions while Minnesota has dropped five of the last six games he's started. During his six-start swoon, Santana has failed to escape the third inning twice.
One of those came Tuesday at Tampa Bay. Santana allowed eight hits and five runs in 2 2/3 innings of an 11-7 loss -- his fourth straight start surrendering at least four runs.
Santana has spent time working on his fastball command with pitching coach Neil Allen, but he enters Sunday with an 0-1 record and 9.77 ERA in three starts at home.
More concerning for Minnesota is an offense that has gone quiet in the first two games of the series. The Twins used three hits to beat Houston 3-0 on Friday before falling 4-1 on Saturday with just five.
Facing Mike Fiers on Saturday on the heels of his Aug. 21 no-hitter, Minnesota went 1 for 14 with runners in scoring position and left seven on base. The Twins scored once after loading the bases with nobody out in the fourth inning and wasted leadoff doubles from Brian Dozier in the sixth and eighth.
"Offensively, we only had a few chances," said manager Paul Molitor, whose team is 26th in the majors with an August batting average of .234. "We had the bases loaded situation where we couldn't get a big hit to get back in the game."
Meanwhile, the Astros (72-58) are going for their third straight series win and seventh victory in nine games. A win Sunday would put Houston 15 games over .500 for the first time since the end of the 2005 season.
To try and reach the mark, Houston will counter Santana with rookie Lance McCullers, who was recalled from Double-A Corpus Christi last weekend.
McCullers (5-4, 3.12 ERA) gave up a season-high eight hits and didn't factor into the decision in his return to the rotation Aug. 23, but he limited the Los Angeles Dodgers to two runs while walking none and striking out eight in a 3-2 win.
The 21-year-old right-hander may have earned the victory -- which came on Jason Castro's walkoff homer in the 10th -- if it weren't for two wild pitches that accounted for both Dodgers runs.
McCullers, who has 87 strikeouts in 83 2/3 innings, was sent to the minors to rest for the season's stretch run after a rough start in a 12-9 loss to Texas on Aug. 3. He surrendered seven hits and six runs while recording just one out.
"Little hiatus away, trying to rest up, trying to give myself a break for the run down the stretch," he told MLB's official website.
Astros rookie shortstop Carlos Correa missed his third consecutive game Saturday with a strained hamstring, while Minnesota third baseman Miguel Sano went 0 for 3 in his return from a hamstring strain that kept him out Friday.
Houston recalled catcher Max Stassi Saturday after Castro was sent to the 15-day disabled list with a strained right quadriceps. Hank Conger started behind the plate.