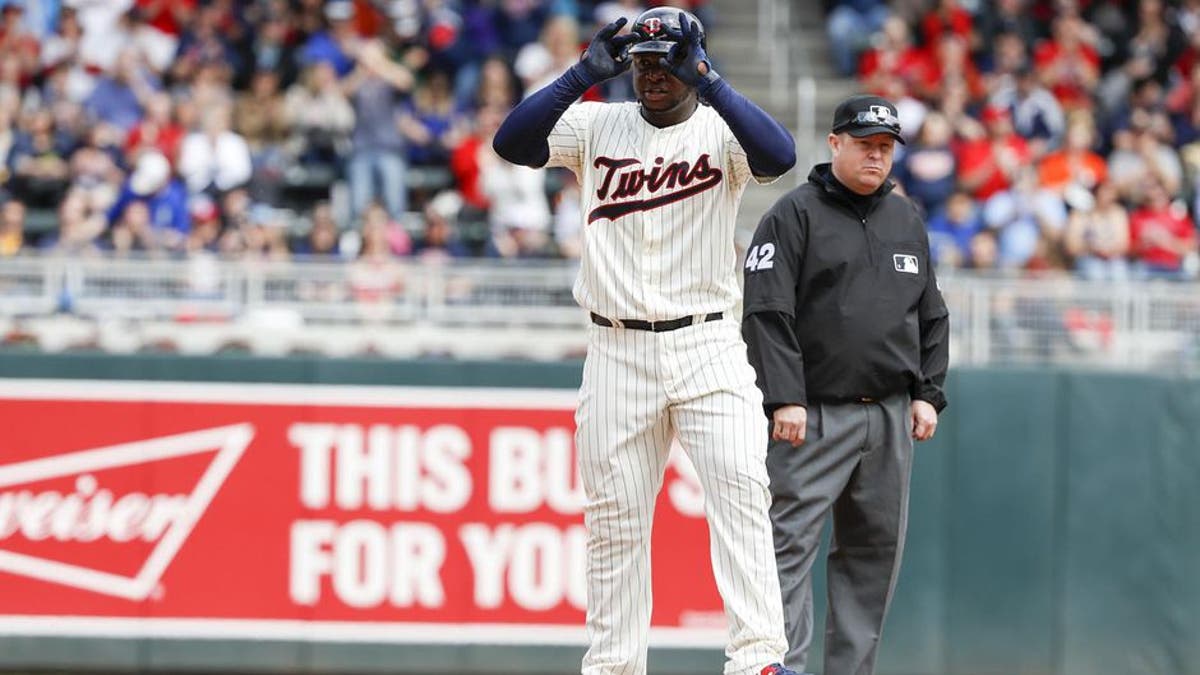 Miguel Sano was named the American League player of the week for his jaw-dropping performance at the plate during the last seven days of April.
Sano finished the week hitting .524 with 11 hits in just five games. He powered his way to three home runs and 11 runs batted in, which came in bunches during the weekend series against the Kansas City Royals. Sano knocked in four and five runs, respectively, in back-to-back games.
The nine RBI at Kauffman Stadium added to his season total of 25 RBI, the most in the AL. Sanos April goes down as the third-best run-producing April in Twins history. The only Twins to finish with a higher RBI total in April were Kirby Puckett (26 in 1994) and Chris Colabello, who had an out-of-nowhere 27 RBI in 2014.
Can Sano be stopped? The Oakland Athletics, who roll into town for a three-game series at Target Field, might think they can slow down the 23-year-old slugger.
Oakland has kept its opponents in check for most of the season. The As .357 opponent slugging percentage is the best in MLB, ahead of second-place Kansas City (.362).
Kansas City, huh? Sano had no problem with the Royals pitching staff over the weekend, so hell be just fine facing the As.
Starting pitcher Sony Gray will make his 2017 debut for the As on Tuesday night after being sidelined with a strained lat to start the year. Sano and the Twins will be licking their chops. Gray has historically struggled against Minnesota, allowing 12 runs in 22 career innings pitched (4.91 ERA).
Gray is coming off a disappointing 5-11 record in the 2016 season when he posted a 5.69 ERA in 117 innings pitched. It came after an outstanding 2015 season that included his first career All-Star appearance, a 2.73 ERA and 14 wins.
No matter which version of Gray comes to play this week in Minneapolis, it shouldnt make a difference. When Sano is this hot, it doesnt matter who he faces.
NOTABLES:
-- Minnesota is 5-2 at home against the As since the start of the 2015 season, its best home record against any opponent in that time span. The teams have split the past 14 overall games, which came after Oakland won 12 straight over Minnesota.
-- Remember last April? Minnesota finished the moth 7-17. This year, the Twins sit at 12-11 with a .522 winning percentage, .230 higher than last season. The Twins didnt earn their 12th win of the 2016 season until May 25.
-- Minnesota is 12 of 14 on stolen base attempts this season, an 85.7 percent mark that ranks second in the big leagues. Just for reference, the Twins were 70 of 108 attempts in 2015 and 91 of 123 in 2016. Brian Dozier leads the team with five successful stolen bases, and Byron Buxton is second with three.
-- Cold As: Oakland comes in as losers of six of its last seven games.
Statistics courtesy STATS