Twins minor-league stars of the week: Sept. 4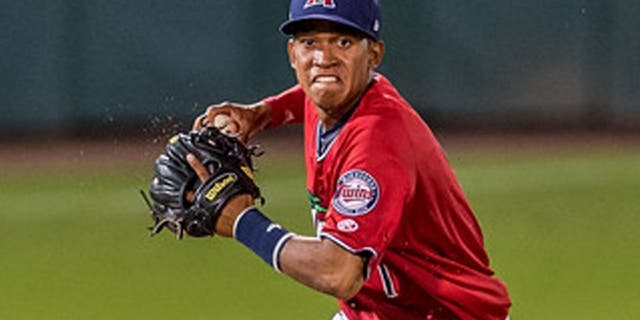 NEWYou can now listen to Fox News articles!
This week's FOXSportsNorth.com Minor League Star of the Week is Fort Myers shortstop Engelb Vielma.
Vielma, a native of Maracaibo, Venezuela, has proven to be a versatile cog in the Miracle's machine all season, but especially of late. Vielma, who has 35 stolen bases this season, has four multi-hit games in the past week.
Here's a look at what Vielma and the rest of this week's minor-league stars did throughout the Minnesota Twins' farm system.
TRIPLE-A ROCHESTER
Player of the Week: C Carlos Paulino
2015 stats (overall in minors): .263/.317/.341, 9 2B, 16 RBI, in 52 games
Recent highlights: Paulino, though still just 25, has played for 10 different minor-league teams in his pro career. The Dominican Republic native seems at home in Rochester this season, though. In the past week, Paulino has gone 6 for 13 (.462) at the plate.
Pitcher of the Week: RHP Michael Bowden
2015 stats (overall in minors): 10-5, 2.68 ERA, 117 2/3 IP, 94 K, 29 BB
Recent highlights: Bowden, a 28-year-old whom opponents have hit just .234 against this season, produced two solid starts last week. The highlight came Aug. 27 against Syracuse, when the right-hander threw seven scoreless innings, scattering five hits and walking none, while striking out nine. Rochester won that contest, 6-0.
DOUBLE-A CHATTANOOGA
Player of the Week: OF Adam Brett Walker II
2015 stats: .241/.314/.501, 30 HR, 103 RBI, 13 SB
Recent highlights: Walker has slowly worked his way out of a lengthy slump in recent days. Since Sunday, the 6-foot-4, 225-pound slugger has five hits, and he was recently named to the Southern League's postseason all-star team. The 23-year-old remains an intriguing, versatile player, though his strikeout issues (190 in 485 at-bats in 2015) must be remedied before he'll make a serious run at the big leagues.
Pitcher of the Week: RHP J.T. Chargois
2015 stats (overall in minors): 2-1, 2.76 ERA, 45 2/3 IP, 49 K, 25 BB
Recent highlights: Chargois was a second-round draftee in 2012, and he has looked worth the investment in recent weeks. The 24-year-old has had two scoreless outings this week, including on Sunday at Birmingham, when he went 1 1/3 innings, yielding zero hits or walks while striking out four to record a save. Opponents are hitting just .208 against Chargois this season.
HIGH-A FORT MYERS
Player of the Week: SS Engelb Vielma
2015 stats: .273/.323/.309, 9 2B, 29 RBI
Recent highlights: Vielma, a 21-year-old native of Venezuela, has picked up the pace at the plate in recent days. Over the past week, Vielma has hit .379 (11 for 29). He also has five stolen bases over that same span, and 35 for the season.
Pitcher of the Week: RHP Todd Van Steensel
2015 stats: 2-4, 2.32 ERA, 66 IP, 81 K, 32 BB, 13 saves
Recent highlights: Van Steensel, an Australia native, boasts an opponent batting average of .223 this season. He produced three scoreless appearances last week, including on Tuesday, when the right-hander worked one frame and promptly struck out the side at Jupiter.
LOW-A CEDAR RAPIDS
Player of the Week: CF Austin Diemer
2015 stats (overall in minors): .265/.304/.444, 12 2B, 23 RBI in 55 games
Recent highlights: Diemer entered Thursday night as the owner of an eight-game hitting streak (alas, that string was snapped, with an 0-for-4 performance at Wisconsin). The 22-year-old has hit .391 (9 for 23) since last Saturday. Since Aug. 24, Diemer has four multi-hit performances.
Pitcher of the Week: LHP Randy Rosario
2015 stats: 3-5, 2.70 ERA, 60 IP, 52 K, 19 BB
Recent highlights: Rosario had an impressive showing at Wisconsin on Wednesday. Over seven innings, the 21-year-old native of the Dominican Republic scattered five hits, allowed zero earned runs and just three walks while striking out eight. The Kernels won, 7-1, as a result.
Follow Kelly Beaton on Twitter