Twins bullpen falters as Amarista's catch, Smith's homer help Padres win 5-4 in 10 innings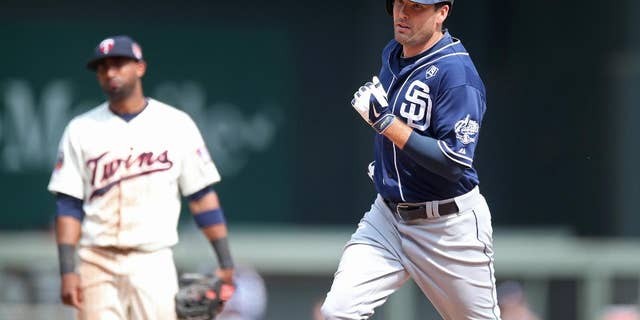 MINNEAPOLIS – All-Star Glen Perkins had a ninth-inning lapse for the Minnesota Twins.
This game against the San Diego Padres might've been lost a lot earlier.
Center fielder Alexi Amarista made a lunging catch with two outs in the bottom of the ninth and Seth Smith followed with a solo home run in the 10th inning to lift the Padres past Perkins and the Twins 5-4 on Wednesday afternoon.
Perkins gave up a leadoff double to Yonder Alonso and the tying sacrifice fly to Everth Cabrera in the ninth, but the Twins finished 3 for 16 with runners in scoring position and saw their winning streak stop at three.
"That is frustrating. That seems to be our Kryptonite, the whole season," second baseman Brian Dozier said.
The Twins are batting .234 with runners in scoring position, second-worst in the American League. The Padres have the best team ERA in the National League, but Twins manager Ron Gardenhire was still upset by the approach at the plate by some of his young hitters.
"Either they made great pitches, or we just didn't execute it. I look at it as we just didn't execute. I think it's always on our shoulders," Gardenhire said.
Eduardo Escobar almost took the Twins off the hook for those missed opportunities, but his fellow Venezuelan and friend Amarista ran backward on a dead sprint and stretched out for a brilliant diving catch of Escobar's bat with two men on base to keep the game tied at 4.
"It was a very nice play. I see him running, running, hard, hard, hard to make the catch," Escobar said.
Amarista, a late-game defensive replacement for Will Venable, was playing way in with two strikes.
"We thought he had no chance to catch that ball. But the young man ran it down, and it was a hell of a play," Gardenhire said.
Smith had two hits and two RBIs, including the deep ball that traveled more than 400 feet against Anthony Swarzak (2-1) in the 10th inning. Joaquin Benoit picked up his fourth save in five tries with two runners on in the 10th after Kevin Quackenbush (2-2) finished the scoreless ninth inning thanks to Amarista's catch.
The Twins got a quality start of six innings completed and three runs allowed from Kevin Correia.
Padres rookie Odrisamer Despaigne gave up four runs on eight hits with three walks and five strikeouts in 5 2-3 innings.
PERKINS' PROBLEM
Perkins made a misjudgment by throwing a fastball down the middle he believed Alonso was going to let go. Though the two-time All-Star has only four blown saves in 32 attempts, and this was his first since June 20, Perkins has allowed at least one hit in 10 of his last 11 appearances.
"Recently here, guys have been swinging a little early on me, and I need to make adjustments on that," Perkins said. "They're probably not wanting to get to two strikes and having to deal with the slider and guessing what I'm going to throw. I think they're making a little adjustment on me, and it's on me to adjust back."
Gardenhire wasn't worried.
"Closers make it interesting. They always do. You know what? People come in there hacking against closers, and Perk's as good as there is," the manager said.
PLOUFFE POWER
Trevor Plouffe had three RBIs and a home run for the Twins, giving him eight for the season. Plouffe, with 33, is one behind Josh Willingham for the most homers at Target Field since the ballpark opened in 2010.
TRAINER'S ROOM
First baseman Joe Mauer (strained right oblique) was scheduled to play first base for Class A Cedar Rapids on Wednesday after his first rehab game there the night before. If all goes well over the next few days, Mauer will join the Twins in Houston next week. Gardenhire said Nolasco's right elbow "felt great" after throwing 51 pitches on Tuesday, and Nolasco will make at least one more start for Cedar Rapids before being activated.
UP NEXT
The Twins start a four-game series in Oakland on Thursday, with right-hander Yohan Pino (1-3, 4.57 ERA) taking the mound for the Twins against newly acquired Athletics lefty Jon Lester (11-7, 2.59 ERA). The A's have an imposing rotation on tap this weekend, with Scott Kazmir, Jeff Samardzija and Jason Hammel to follow.