Twins barely touch Kluber again -- Indians starter tosses 1-hitter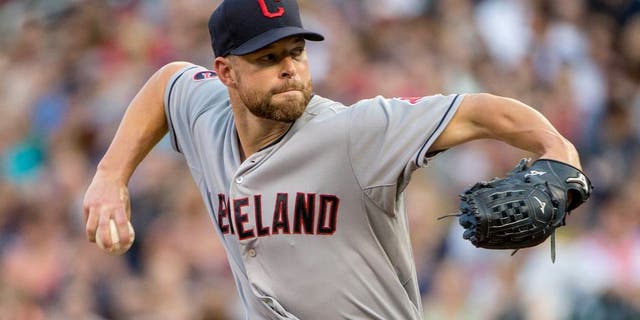 MINNEAPOLIS -- After nearly throwing a no-hitter in his last outing against the Minnesota Twins, Corey Kluber wasn't going to change his approach in facing them again five days later.
Kluber flirted with a no-hitter for the second consecutive outing against Minnesota and finished off his second straight complete game with just one hit allowed as the Cleveland Indians cruised to a 6-1 win Friday night.
The reigning AL Cy Young award winner gave up a solo home run to Joe Mauer and struck out seven in his fourth complete game of the season, going the distance while throwing just 98 pitches.
"If it wouldn't have gone well last time, then I think you change stuff, but I think we had a good game plan coming in based off the last time," Kluber said. "It all comes down to just executing pitches. If you have a good one or a bad one the last time against a team it can be the total opposite next time."
Kluber took a no-hitter into the seventh inning in his last start before Mauer singled with two outs. This time, the only blemish on Kluber's line before Mauer's home run with two outs in the fourth was a walk to rookie Miguel Sano in the second inning.
"I think as a pitcher you probably have to be really good to do what he did because there's some pretty good hitters there and they got a look at him in a five-day span," Indians manager Terry Francona said.
In three starts against the Twins this season, Kluber has given up four runs on seven hits in 26 innings.
"I don't know if we adjusted very well from last game, kind of fell into the same pattern a little bit," Minnesota manager Paul Molitor said.
Giovanny Urshela had two hits, including a two-run homer for Cleveland. Francisco Lindor, Lonnie Chisenhall and Mike Aviles each had three hits to help the Indians win for the fifth time in six games.
Abraham Almonte added two hits as the bottom four hitters in Cleveland's lineup were a combined 10 of 16 with six runs scored and five RBIs.
Trevor May (8-8) gave up two runs on five hits in three innings in his first start for Minnesota since moving to the bullpen in early June.
May, who made 16 starts earlier this season, entered the rotation with Minnesota short-handed because of injuries to Phil Hughes and Tommy Milone. Milone will be activated to start Sunday.
Urshela followed Almonte's double with his fifth home run in the second off May. The Indians' chance for more runs was thwarted as Chisenhall was thrown out at the plate by Twins left-fielder Eddie Rosario to end the inning. Rosario has an outfield assist in three straight games.
"I felt good," May said. "There were no physical problems and I didn't feel much different than I did my last start. That's encouraging. I'll take my routine out there and try to improve my next start."
MAKING ROOM
The Indians announced they are optioning right-handed reliever Shawn Armstrong to Triple-A Columbus to make room for the return of starter Josh Tomlin. Tomlin will be recalled to make Saturday's start, his first major-league start since undergoing shoulder surgery in April.
Armstrong had two scoreless appearances over 2 2/3 innings, making his major-league debut on Aug. 8.
TRAINER'S ROOM
Indians: OF Michael Brantley was out of the lineup with a sore left throwing shoulder and Francona said he could be out of the lineup for a "couple, three days." Brantley had an MRI, which showed no damage, and had an injection to help alleviate the pain. ... 2B Jason Kipnis, out since Aug. 2 because of right shoulder inflammation, threw from 100 feet on Friday and Francona said he still expects Kipnis to return to action next week at Boston.
Twins: RHP Blaine Boyer was placed on the disabled list early Friday with right elbow inflammation. An MRI didn't reveal any damage to the elbow but Molitor said Boyer is dealing with tenderness in the elbow.
UP NEXT
Indians: Tomlin was 1-2 with a 3.42 ERA during six rehab appearances and then made one Triple-A start with Columbus and gave up six runs in six innings after being activated from the disabled list.
Twins: Tyler Duffey (0-1, 27.00 ERA) will make his second major-league start after being recalled from Triple-A. The right-hander lasted just two innings in his major-league debut against Toronto on Aug. 5, allowing six runs.