Tuesday, May 9: St. Louis Cardinals at Miami Marlins game preview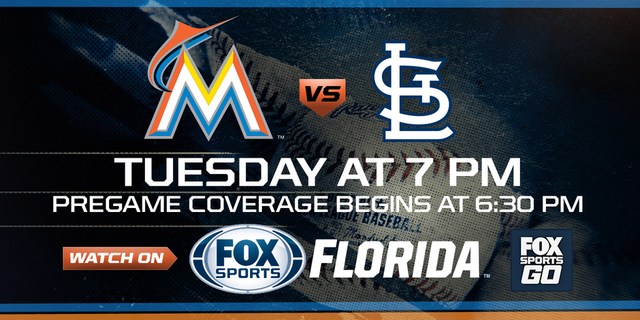 TV: FOX Sports Florida
TIME: Pregame coverage begins at 6:30 p.m.
MIAMI -- With a rookie center fielder borrowed from Class A ball getting two hits and scoring twice, and a pitcher knocking in a career-best four runs, the St. Louis Cardinals surged into first place in the National League Central on Monday night.
Sure, it's early, but the Cardinals (17-14) have won 14 of their past 19 games, including seven straight on the road.
On Tuesday night, the Cards will try to keep it going, sending veteran Adam Wainwright (2-3, 6.30 ERA) to the mound to face the Miami Marlins, who will throw right-hander Dan Straily (1-3, 4.65 ERA).
The Marlins (13-18) have lost 10 of their past 13 games. If they lose on Tuesday or on Wednesday, it would mark the fifth consecutive series they have lost.
Making matters worse for the Marlins was the announcement made after their 9-4 loss to the Cardinals on Monday that valuable infielder Miguel Rojas likely will miss a couple of months due to a broken thumb.
The Marlins initially called the thumb jammed and swollen. However, X-rays revealed the break, which was a horrible one for Miami since Rojas is an outstanding defensive player who was having a career year at the plate, batting .338.
"I'm so sorry about that," Marlins left fielder Marcell Ozuna said when asked to react to the news about Rojas. "He's a good piece for us. This affects us. He's been swinging the bat well, protecting everyone in the lineup."
While the Marlins are reeling, the Cardinals are rolling.
Cardinals second baseman Kolten Wong, for example, extended his career-best hitting streak to 13 games on Monday. He is batting .353 during the streak, and he is giving the team a boost in the leadoff spot.
The Cards normally hit center fielder Dexter Fowler at leadoff, but he has missed four consecutive starts due to a shoulder injury. He is expected back any day now.
"You don't want to rush anything," Fowler said, "but it's been getting way better day by day."
In the meantime, the Cards are going with 21-year-old rookie Magneuris Sierra in center.
Sierra, despite never having played above Class A ball prior to Sunday, is hitting .273 in his two-game trial by fire. He also has made a couple of impressive catches in center field, which fits with the reputation he arrived with from the Florida State League.
On Tuesday, the Cards will be facing Straily, who is 1-0 with a 3.05 ERA in four career appearances against St. Louis, including three starts.
Wainwright, though, has been even better against the Marlins, boasting a 5-2 record with a 2.00 ERA in 10 games, including eight starts. Two of those starts were complete games, including a three-hit shutout he tossed on July 6, 2016, in St. Louis.
That was his only 2016 appearance against the Marlins, and it was a beauty.
Still, Wainwright, a three-time All-Star and a two-time World Series champ, will be 36 in August. The decline in his game showed in his career-worst 4.62 ERA last season. His ERA had been below 3.00 in each of the previous three seasons.
This year, his ERA is embarrassingly bad, especially for a pitcher who has been so outstanding in his distinguished career. He has made only six starts, but the trend from last year points downward, and Father Time is so far unbeaten.
Perhaps Tuesday will be a different story for Wainwright, especially with the Cardinals riding a wave of goodness. Or, perhaps, here is where the Cards fall off their board, even if only for a moment.
Certainly, Miami's Ozuna, who homered twice on Monday, believes his team's fortunes will turn around soon.
"We're having a bad time right now, losing," he said, "but we're going to get a good time. That's coming around the corner."