Tuesday, May 9: Kansas City Royals at Tampa Bay Rays game preview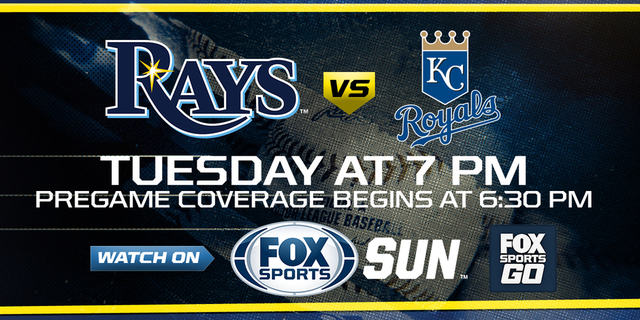 TV: FOX Sports Sun
TIME: Pregame coverage begins at 6:30 p.m.
ST. PETERSBURG, Fla. -- For the second time in three days, the Tampa Bay Rays are tasked with trying to beat a team so void of starting pitching options that it must reach into the bullpen and go with a reliever.
On Sunday, that meant a humbling loss to the Toronto Blue Jays and five relievers. On Tuesday, the Rays will face the Kansas City Royals' Chris Young, who will come out of the bullpen for his first start since July.
Young, 37, threw 50 pitches in his last relief outing a week ago, so he is stretched out enough to help the Royals in a pinch. He has a 4.22 ERA in seven appearances out of the bullpen this season, and he has allowed 14 hits and four walks in 10 2/3 innings overall.
In eight career games against the Rays, including four starts, Young is 2-2 with a 5.40 ERA.
It will help if he has run support like the Royals provided Monday, when Kansas City matched a season high with seven runs and set a season high with 13 hits against the Rays.
"We were really looking for our offense to break loose a little bit, so tonight was a good night," Royals first baseman Eric Hosmer said. "A lot of guys had some good nights, so we needed a night like this."
The Rays, who lost two of three to the Blue Jays when Toronto had the worst record in baseball, recognize the need to fare better against a Royals team that came to town with baseball's worst record and three fewer road wins than any other team in the majors.
"These are the games we've got to win. This is a big series for us," outfielder Steven Souza said after the Rays' loss Monday. "Unfortunately, it didn't go at all the way we wanted today, but we've shown we can have bad games like this and come back and win the series, and that's what we're going to need to do."
The Rays hope to get another strong outing from right-hander Matt Andriese on Tuesday. He didn't allow a run Thursday against the Marlins, striking out eight and holding Miami to five hits in seven innings. He has been superb in his career against the Royals, posting a 1.45 ERA in four career appearances, though he has yet to earn a win against Kansas City.
Andriese has gone seven innings in back-to-back starts for only the second time in his career. Before those two, he had a stretch of 18 straight starts of six innings or less. The longer outings are crucial to easing the burden on the Rays' bullpen, which continues to be without several key pieces to set up closer Alex Colome.
"I have all the confidence in the world that we will bounce back and put together a good game (Tuesday)," Rays manager Kevin Cash said after a frustrating night that featured four errors and a complete lack of clutch hitting. Tampa Bay was 0-for-7 with a runner at third base.
The bullpen day has beaten the Rays twice in the last two weeks, both against Toronto. Batters rarely get a second at-bat against the same pitcher, so it is harder to get into a rhythm reading pitches as they face four or five different pitchers on the night.