Truex stars in 'gripping' drama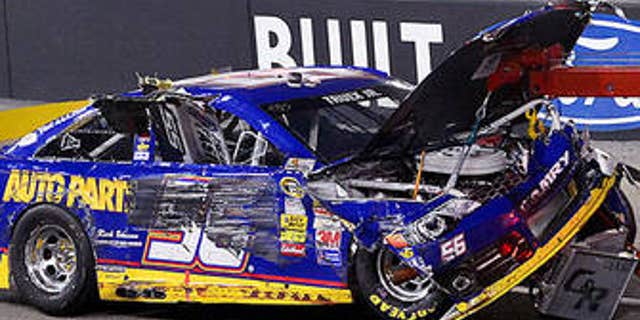 HAMPTON, GA. – It's difficult to tell a driver to slow down.
But after Martin Truex Jr. fractured his right wrist last weekend in an eight-car wreck at Bristol Motor Speedway, the driver of the No. 56 Michael Waltrip Racing Toyota understands the quickest route to recovery "is just rest."
"There is some exercise stuff that I've been doing," Truex said. "I got help from our trainers at Michael Waltrip Racing as far as getting the tightness out from the sprained part, and that's definitely helped. Again, today [Friday] was a light day -- just did qualifying runs -- but honestly I felt so good right away. I was like, 'We're going to be fine here.' It definitely hurts a little bit here and there at different times, but nothing I don't think I will be able to deal with and it should be good."
Still, the team isn't taking any chances with Truex seated 14th in the point standings -- and currently the first wild-card spot with his win at Sonoma in June. Scott Speed will stand by as a backup for Sunday's AdvoCare 500.
Whether Truex relinquishes the wheel, however, remains to be seen, particularly since he qualified seventh and had a career-high finish of fourth at Atlanta last year.
"After practice, honestly I feel really good about -- I'm going to say there's a 99 percent chance that I will race the whole race," Truex said. "I felt really good today [Friday]. We just wanted to have a plan in place just in case, because I really wasn't sure what to expect coming here today. Like I said, I've never been hurt before, never had to drive hurt, never even had a cast on my hand, for God's sake.
"So far, everything is going well. ... The healing time they say is roughly six weeks. Supposedly the bone I broke, which is the scaphoid, is supposedly like the slowest-healing bone in the body, which is kind of frustrating for me. He's thinking six weeks with the cast, I'll be good to go. If not, maybe put a screw in it in the offseason and then it will be about the same recovery time. Again, not too worried about it."
Truex said the cast that was created for his right hand was molded out of fiberglass to hold "onto a steering wheel." While the 33-year-old racer contended he would change a few things with the cast if he ever were in this position again, for now, "It feels good."
"My grip is good," Truex said. "That's one thing that has helped me -- I'm still able to grip really tight and I can squeeze, so that's a good thing."
As for shifting, it's "a little bit of an issue as far as the pain goes,'' Truex said.
But since Atlanta Motor Speedway is a wide-open track, shifts would mostly come on and off pit road and restarts, minimizing that factor.
"I was surprised at how good it felt and how normal it felt, to be honest,'' Truex said. "Glad I went to the doctor and glad I got it taken care of, and hopefully we'll be good to go in a few weeks."
With two races remaining to determine the Chase for the Sprint Cup field, the sooner the better for Truex, who needs to bring his A-game to final 10 races.
"Where we are right now, I think that getting in the Chase, it's kind of like a fresh start," Truex said. "We've had a tough season. We've overcome a lot to be where we are, honestly. We've overcome the odds to be even having a chance at the Chase right now with all the DNFs and stuff that we've had.
"I think we throw caution at the wind if we make it. We'll go for everything we can go for. Last year was disappointing to make the Chase and then have the things happen to us that did and finished 11th in the points. If we can make it, we're going to go for broke, that's for sure."
TRADING PLACES?
Richard Childress smiled as he posed for a picture with driver Jeff Burton and crew chief Luke Lambert following qualifying at Atlanta Motor Speedway on Friday.
Despite rumblings of RCR paring down to a three-car Sprint Cup team featuring Paul Menard, Austin Dillon and Ryan Newman in 2014, Childress insisted, "I have a contract with Burton for another year and I'm going to honor it."
Childress said RCR was "still working on sponsorship" and that it could be a couple of weeks before a final roster is announced. A similar timeline was echoed by Ryan Newman on Friday when he was asked about his plans for next season.
"I do feel more confident ... that I'm moving along," said Newman, who qualified 17th for the AdvoCare 500. "I have nothing to announce. But my focus is on these next two races. I do have a different focus on 2014, but that won't happen this weekend or next weekend, it will happen during the week."
SOCIALIZING
Brad Keselowski, on finding the balance between brutal honesty and political correctness, tweeted:
"The funny thing about talking w/media- Speak open/candidly & you are labeled young and immature. Speak guarded, w/poise & you are labeld a coward or a fraud. Wish I knew how to fix this..."
NUMBERS GAME
2ND -- Carl Edwards' top qualifying effort at Atlanta Motor Speedway -- which he duplicated on Friday night.
3RD -- Juan Pablo Montoya's top qualifying effort at AMS -- which he duplicated on Friday night.
30 -- Career Cup starts for Ricky Stenhouse Jr. prior to winning his first pole.
SAY WHAT?
When Denny Hamlin was asked about sitting on the provisional pole after qualifying 21st with a lap of 188.533 mph, he was asked what impressed him the most about the lap:
"That I didn't wreck -- I've been doing a lot of that lately."