Truex Jr. not allowed to make Daytona 500 qualifying run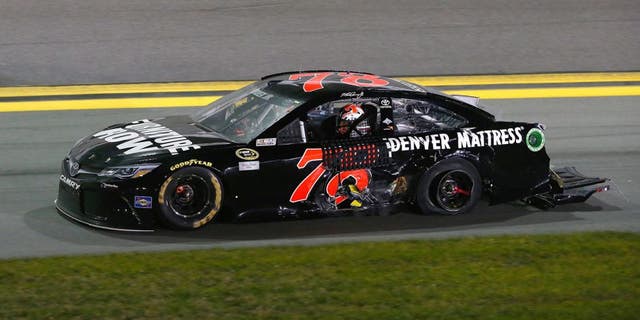 NEWYou can now listen to Fox News articles!
NASCAR inspectors were busy during Daytona 500 qualifying on Sunday, finding infractions on three cars.
Martin Truex Jr. was not permitted to make a Daytona 500 qualifying run Sunday, after NASCAR inspectors did not like the way a roof laps lined up on the No. 78 Furniture Row Racing Toyota.
And two of Stewart-Haas Racing's drivers, Kevin Harvick and Brian Vickers, had their qualifying times disallowed for track-bar violations.
Because the No. 78 is one of 36 Charter cars, Truex is guaranteed a starting spot in the 500. But he will start his Can-Am Duel qualifying race Thursday from the back of the grid. Where Truex finishes in his Duel race will determine where he starts the Daytona 500.
Harvick and Vickers will also start their Duel races at the back Thursday.
Truex's crew chief, Cole Pearn, said the team didn't have time to fix the roof flap.
"They (NASCAR officials) didn't like the way it was landing when it dropped back down," said Pearn. "… I'm not sure what the problem was, it could have been easily fixed but, either way, they decided to put it on the 5-minute clock when we were down there at the end and I don't know why we had to run it back here cause there's no way we were gonna get back here and get back out in time, but whatever … we'll roll on, and see what they decide to do."
After inspection, NASCAR issued the following statement:
"Prior to making a qualifying attempt for the Daytona 50, NASCAR officials on pit road determined that a roof flap on the No. 78 was not in compliance with prescribed specifications. The team was unable to correct the violation within the allotted five minutes per the NASCAR Rule Book, and forfeited their opportunity to make a qualifying attempt. The No. 78 will start at the rear of the field in their qualifying race.
"During post-qualifying inspection, NASCAR officials determined that the track bar on the No. 4 and 14 was not in compliance with prescribed specifications. The qualifying time for both of those teams is disallowed and they will be required to start their respective qualifying races at the rear of the field."
NASCAR could issue additional penalties next week.