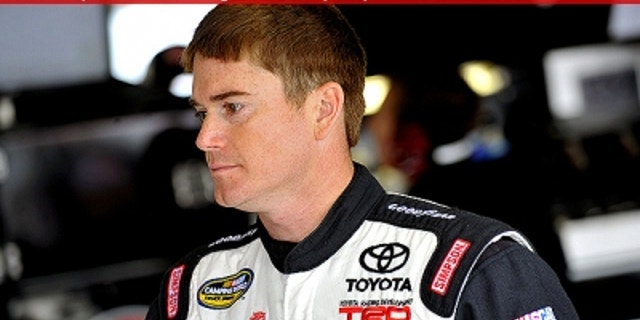 For Timothy Peters, it's time to push "go."
But, in a Camping World Truck Series season that's shorter by three races than last year, it's almost always "go" time.
Peters carries the series point lead into Friday night's North Carolina Education Lottery 200 at Charlotte Motor Speedway. The race is the fifth of the season for the Truck Series, which is scheduled to run 22 events this year, down from 25 last season.
Friday's race (8 p.m.) will be televised live by SPEED, which also will cover the 4 p.m. Friday qualifying session.
Peters, one of three drivers for Red Horse Racing, hasn't won this season but otherwise has performed admirably, with two seconds and two fifths in four races.
With a fine start and a relatively short season, Peters now balances the concepts of running hard but also racing smart.
"I look at it like you have to definitely be a little more cautious than last year," Peters said. "With the new point system and minus three races, you definitely need to know who to race and when to race and how to race them.
"Our strategy is that we are going to try to get all we can out of the truck, but if it comes to a point during the race that it looks like we have to settle for a top five, then we're going to get the best finishing position that we can without jeopardizing our equipment."
It's clear that, with a relatively short schedule, a few bad finishes can be killers for drivers eyeing the championship.
"With three less races this year, your window of mulligans is pretty shut," Peters said. "But we definitely want to get those wins. We feel like we're deserving of them. If we keep going like we came out of the box this year, I feel like our wins are right around the corner. We just have to be smart about it."
Peters won one race and had seven top-five finishes last season. The second half of the year gave his team a head start on this season, he said.
"Last year after the summer it seemed like everything started clicking for (crew chief) Butch Hylton and myself, and we found a balance with our Toyota Tundra that I liked," Peters said. "Obviously, the way you end a season sets the tone for the next one.
"When we got back home from Homestead, the guys went to work. It's not like things were bad before, they're just better. The guys are putting out good work – better bodies, better chassis work."
Peters led 30 laps in last season's race at Charlotte (after winning the pole) but ultimately was involved in an accident and finished 32nd.
"Last year we felt like we had what was our best truck at the time at Charlotte," he said. "I got the pole and led a bunch of laps. Then I had a driver error and knocked us out of the game early. I'm looking to get back and get a little redemption. I feel like we're taking a truck that's better than last year's."
Mike Hembree is NASCAR Editor for SPEED.com and has been covering motorsports for 30 years. He is a six-time winner of the National Motorsports Press Association Writer of the Year Award.