TRUCKS: Rockingham Unique Track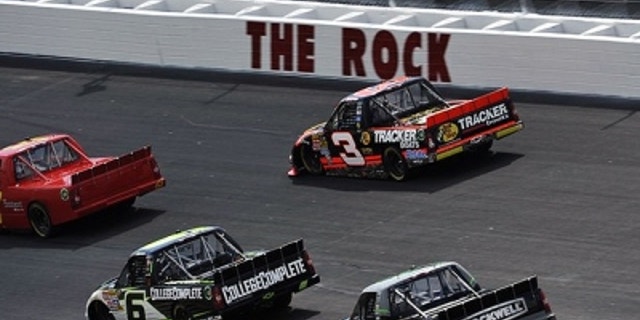 Rockingham Speedway is its own animal, at least in the view of Camping World Truck Series driver Ty Dillon.
Dillon and the rest of the Truck Series contingent will be in Rockingham, N.C., this week for the revitalized track's second series race, Sunday's North Carolina Education Lottery 200.
Rockingham returned to NASCAR major-series racing last year.
"It's really hard to compare Rockingham," Dillon said Tuesday. "The transitions in the corner are really big. You go from a flat straightaway almost to pretty tall banking there. The only place that seems to relate the way it drives a little bit is Dover.
"You have a little more grip at Dover, but Rockingham has sort of the same transitions and you get the same trend on the handling aspect of your truck. We base a little bit of our setup off Dover, but other than that, Rockingham is very unique in the way it wears out tires and the way it races."
Sprint Cup invader Kasey Kahne won last year's Truck race at Rockingham on a weekend that was as much about celebrating the track's past as it was about the race at hand.
"It is so cool because it's a place that means not just so much to the people in the sport, the fans, to see us back on the race track, but to see the drivers be able to race at a place that has so much history for our sport," Dillon said. "To be back on track there was really a good relief for our sport, and I think it's just sort of become sort of the comeback trail of our sport a little bit over the last couple years, getting us back to our roots, and it's going to be something that's going to keep getting the fans excited, I believe."
The return to Rockingham re-establishes Richard Childress Racing at a track where the team had success in the Cup Series.
"I think it's something special for the fans who have been a part of the sport for such a long time to be able to go back to the place that they've grown up watching races at when they were kids and now they're racing there again," Dillon said.
"I think it's great for the legacy of the sport and also for the new fans. It's cool for a new fan to be able to say they've watched a race now that's full of all the history that they might not have been able to see."
Dillon finished eighth in the Truck race at Rockingham last season. He is eighth in points entering this week's race.
Practice for Sunday's race is scheduled at noon and 3 p.m. ET Saturday. Qualifying is set for 11 a.m. Sunday, with the race green flag scheduled for 2 p.m.
Coverage on SPEED will begin with NASCAR Camping World Truck Series Setup at 1:30 p.m.
Mike Hembree is NASCAR Editor for SPEED.com and has been covering motorsports for 31 years. He is a six-time winner of the National Motorsports Press Association Writer of the Year Award.