TRUCKS: Rock Ready To Roll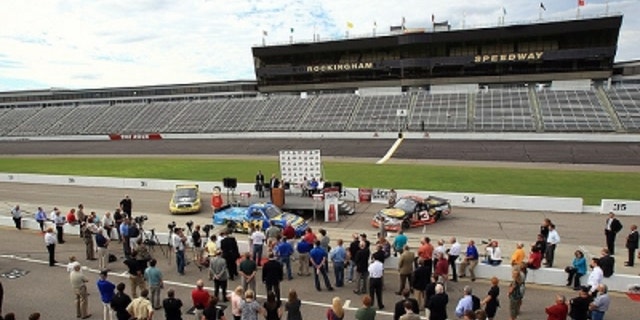 For old-school, hard-core NASCAR fans, the best news for 2012 might be that the fabled Rockingham Speedway will once again host a NASCAR race after disappearing from the calendar following the 2004 season.
On April 15, Rockingham will be the site of the NASCAR Camping World Truck Series Good Sam Roadside Assistance 200 presented by Cheerwine, part of a three-day card of racing at the fabled 1-mile oval. SPEED will televise the race live, starting with the NASCAR Camping World Truck Series Setup at 12:30 p.m. ET.
To prepare for the Truck Series race, Goodyear is conducting a two-day tire test Tuesday and Wednesday, with free grandstand admission for fans.
Scheduled to participate in the Goodyear test are Timothy Peters of Red Horse Racing, Jason Leffler of Kyle Busch Motorsports and James Buescher of Turner Motorsports.
The return of NASCAR to Rockingham is significant because from the time it opened in 1965, the track consistently hosted some of the best racing in NASCAR, with close competition and tight finishes the norm. The track was a favorite of drivers for that reason, and the trucks almost certainly will put on a great show next month.
It's also a victory for track owner and president Andy Hillenburg, who has worked diligently to get NASCAR to come back to the track known as "The Rock." The track installed SAFER barriers last fall, one of the upgrades required by NASCAR to host a race.
"In 2007, we set a goal to return Rockingham Speedway to its roots," said Hillenburg. "The introduction of the Truck Series to Rockingham Speedway is representative of years of hard work and the support of the county, city and state government officials, who understood the positive economic impact a NASCAR-sanctioned race could offer to the Piedmont region. We are very excited about this news and know our supporters are just as proud to have Rockingham's national racing roots become a reality once again."
For more information on the Good Sam Club Roadside Assistance Carolina 200 presented by Cheerwine, or to purchase tickets, contact Rockingham Speedway at 910-205-8800 or visit online at www.rockinghamspeedway.com.
Tom Jensen is the Editor in Chief of SPEED.com, Senior NASCAR Editor at RACER and a contributing Editor for TruckSeries.com. You can follow him online at twitter.com/tomjensen100.