TRUCKS: Pole Tie To Kligerman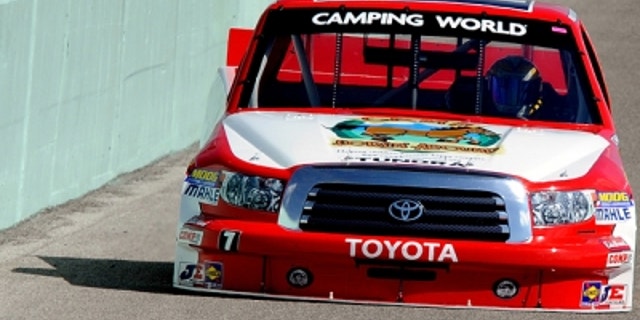 Parker Kligerman captured the pole for tonight's season-ending Ford EcoBoost 200 NASCAR Camping World Truck Series race at Homestead-Miami Speedway.
And Kligerman did so by the smallest of margins — zero.
Towards the end of the qualifying session, rising star Kyle Larson put up a great lap of 168.824 mph in the No. 4 Turner Motorsports Chevrolet, which put him on the provisional pole.
After Larson went out, Parker Kligerman ran the identical speed in the No. 7 Red Horse Racing Toyota. But because Kligerman's truck is higher in owner points, he will start on the pole tonight with Larson on the outside of Row 1.
"When we go and get these mile-and-a-half poles, it takes all the elements," said Kligerman. "Driver, race truck, engine, downforce, setting — everything you've got, it takes to get those mile-and-a-half poles.
"We'll keep inching forward, winning something," said Larson, one of the brightest young talents on the horizon.
Ty Dillon, still in contention for the championship, put the No. 3 Richard Childress Racing Chevrolet Silverado in the third spot, with a lap of 168.45 mph. He was followed by Nelson Piquet Jr. and Cale Gale.
The second five was Kyle Busch, Miguel Paludo, Ron Hornaday Jr., Johnny Sauter and Matt Crafton.
And with a tense three-way battle on tap, tonight's race promises to deliver plenty of tension and excitement.
Up next in SPEED's Truck Series coverage from Homestead is The NASCAR Camping World Truck Series Setup at 7:30 p.m. ET, with the race live on SPEED at 8 p.m.
James Buescher, who qualified 17th, comes into tonight's race with a lead of 11 points over Timothy Peters, who qualified 14th. Dillon is 12 points in arrears, followed by Joey Coulter (-29).
Tom Jensen is the Editor in Chief of SPEED.com, Senior NASCAR Editor at RACER and a contributing Editor for TruckSeries.com. You can follow him online at twitter.com/tomjensen100.