TRUCKS: Peters Scores Iowa Victory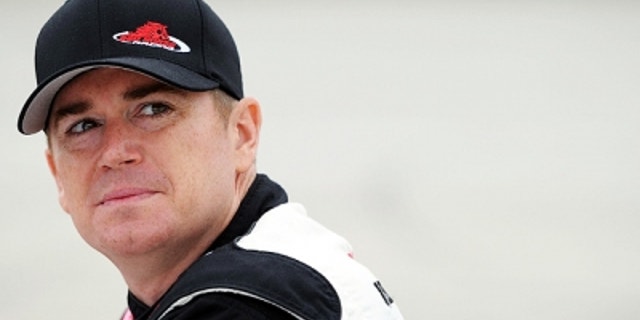 Timothy Peters used a great late-race restart and the misfortune of a very fast rival to win Saturday night's American Ethanol 200 NASCAR Camping World Truck Series race at Iowa Speedway.
James Buescher led 91 of the first 134 laps, but a cut tire on his Turner Motorsports Chevrolet Silverado put him into the Turn 2 wall, thwarting his shot at victory and allowing Peters to score his first Truck Series triumph of the season and fourth of his career. In the process, Peters became the eighth different winner in nine Truck Series races this season.
In victory lane, Peters credited his crew chief, Butch Hylton and his crew for giving him a dominant truck.
"Perseverance, determination, man," Peters said when asked what made the difference. "You should have seen this shop. Last year, this race was a reset button for Butch Hylton and myself. And we just made a notebook and got on a roll over the offseason. He implemented a lot of good stuff and our Toyota Tundras are fast."
But Peters had a lot to do with the victory, too.
It took a pass of Ron Hornaday Jr. with 10 laps to go for Peters to put the No 17 Red Horse Racing Toyota in victory lane, followed by Hornaday's Joe Denette Motorsports Chevrolet , and then the Toyotas of ThorSport Racing teammates Matt Crafton and Johnny Sauter. Justin Lofton completed the top five in his Eddie Sharp Racing Chevrolet.
"I spun 'em pretty bad," Hornaday said of his tires on the final restart. "So he got me on that last one. We had fun. At least they knew we were here."
Peters, the points leader coming into the race, qualified on the pole and led the opening laps with Buescher taking the lead on a Lap 10 restart after a caution for Brennan Newberry's spin.
Once out front, Buescher briefly led by as much as 2 seconds, but by Lap 40, Peters was challenging for the lead again, the two side by side for several laps before Peters made the pass for the lead on Lap 42.
Paulie Harraka lost a right-front tire on Lap 49 to bring out a caution and send the leaders down pit road for the first time. Peters and Buescher held the top two spots on pit road, with Buescher's teammate Nelson Piquet Jr. coming out third.
On Lap 62, Jason Leffler spun in Turn 4 as he tried unsuccessfully to go under Joey Coulter. Although he kept it off the wall, Leffler's spin brought out the yellow again.
Buescher went back out front on Lap 76, his truck appearing to be better on short runs and Peters superior on the longer ones. The same pattern followed again, as Peters gradually began to narrow Buescher's lead.
But Buescher's chance of victory ended on Lap 135 when he blew a right-front tire and went hard into the Turn 2 wall.
When the track went green on Lap 143, Peters led followed closely by Sauter and Hornaday third.
With 37 laps to go, a caution flew after David Starr's truck began smoking, setting up a shootout for the victory.
When the green came out, Hornaday got the jump and blew past Peters and Sauter to take the lead.
Then, with 27 laps to go, Ryan Sieg went around, to send the track yellow again.
On the restart, the leaders went three-wide, with Hornaday hanging on over Peters and Sauter.
But the drama was a long way from over. With 20 laps to go, Dakoda Armstrong and Cale Gale made contact a couple of times, with Gale getting the worst of it and going into the wall in Turn 4.
The track went green with 10 laps to go and this time Peters made the great start to take the lead and drive to victory.
Unofficially, Peters leads Lofton by 12 points with nine of 22 races complete on the season.
Tom Jensen is the Editor in Chief of SPEED.com, Senior NASCAR Editor at RACER and a contributing Editor for TruckSeries.com. You can follow him online at twitter.com/tomjensen100.