TRUCKS: Kligerman Wins For First Time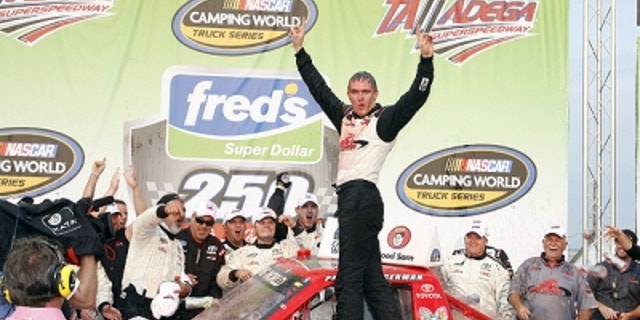 Parker Kligerman won the fred's 250 powered by Coca-Cola at Talladega Superspeedway, scoring his first career NASCAR Camping World Truck Series victory in the 300th start for Red Horse Racing.
In the process, Kligerman became the eighth first-time Truck Series winner this year, a new record.
"We fought every single thing you could possibly fight today," said Kligerman, who battled through a bad pit stop, a vibration, and battery and electrical issues to score his maiden win in his 44th series start. He had finished second three times this year and twice in 2011.
The victory was also Kligerman's sixth top-five finish in the last 10 races and moved him up one spot to fourth in points. It was vindication for a series of ups and downs this year, that saw the driver part ways with former team owner Brad Keselowski before joining Red Horse.
"Today, I was put with some of the best people I ever worked with and ever raced with," said Kligerman.
As for his first victory, Kligerman felt it coming, based on the way he's run in recent weeks. "I knew it was only a matter of time," he said. "… Winning fixes everything."
Red Horse Racing owner Tom DeLoach understandably was all smiles, too.
"Not too shabby," DeLoach said. "To win on the 300th (start) makes it really special."
Johnny Sauter finished second in the No. 13 ThorSport Racing Toyota, ahead of James Buescher, Ty Dillon and Ryan Blaney. It was Sauter's best career finish at a superspeedway.
Dillon maintained his 1-point lead over Buescher and was happy to escape the race unscathed.
"We almost wrecked," said Dillon. "I'm just glad we finished. … I had a lot of fun and I'm kind of glad it's over."
Dillon started on the pole in his No. 3 Richard Childress Racing Chevrolet and led the first eight laps until Jason White used a push from Ron Hornaday Jr. to take over the top spot.
Aric Almirola went into the lead two laps later in his Richie Wauters-owned Ford, with the field behind him already paired up two by two the entire length of the pack.
At the one-quarter distance, James Buescher led Hornaday, Kurt Busch, Dillon and Jason White.
Just before the halfway point, Johnny Sauter hit Ross Chastain, who in turn ran into Johnny Chapman, sending Chapman into Todd Bodine, as the two-time series champion's season of misery continued.
Almirola, one of the early favorites found his hopes dashed when the transmission of his truck got stuck in second gear.
The race restarted on Lap 52, with Timothy Peters moving into the lead for the first time on the afternoon. In rapid order, Busch and then Ryan Blaney took turns on the point.
On Lap 60 Donnie Neuenberger lost control and bounced off the Turn 4 wall, wrecking Nelson Piquet Jr. in the process and leading to another yellow-flag period.
As the laps wound down, Justin Lofton led from Timothy Peters.
Ron Hornaday Jr. spun on the frontstretch on Lap 76, another victim of a flat tire, and his incident brought out the fifth caution of the races.
Lofton led the Lap 81 restart, getting a great push from Busch. The next time around, Lofton got hung out, with White going into the lead ahead of Parker Kligerman and Busch.
Hornaday lost his right-rear tire with 11 laps to go and bunching the field up under yellow.
The track went green on Lap 88, White in the lead with Busch pushing him.
On Lap 91, Dillon pushed Buescher into the lead on the high side, leading White and Busch.
With two laps to go, Kligerman went up high taking his first lead of the race. Just after he did, the field wrecked behind him after he took the white flag, allowing him to win his first race, a hugely emotional triumph.
Tom Jensen is the Editor in Chief of SPEED.com, Senior NASCAR Editor at RACER and a contributing Editor for TruckSeries.com. You can follow him online at twitter.com/tomjensen100.