TRUCKS: Harvick Wins Easily At Martinsville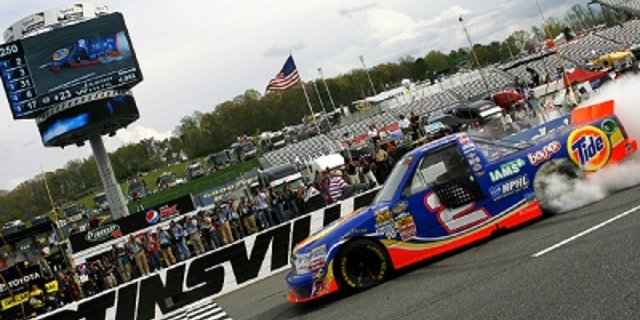 NEWYou can now listen to Fox News articles!
Kevin Harvick was obnoxiously fast Saturday at Martinsville Speedway.
Harvick led all but two laps in coasting to an easy victory in Saturday's Kroger 250 Camping World Truck Series race at Martinsville Speedway.
Harvick's run was one of the most dominant by a winning driver in the history of the series.
He sailed around the Martinsville half-mile virtually without a challenge all afternoon. The only other driver who led laps was Ty Dillon (two).
Dillon, Harvick's Richard Childress Racing teammate, finished second, .953 of a second behind Harvick. Completing the top three were James Buescher, Justin Lofton and Timothy Peters.
"The truck was good right off the trailer," Harvick said. "What else can you say? It's a lot of fun."
Harvick's lap-led total of 248 is a Truck series record. Mike Skinner led 246 laps at Martinsville in 2007.
Dillon led laps four and five. Then Harvick led every lap the rest of the way. The only time a challenger was even beside him was on restarts.
"Second place for my first start at Martinsville – I'll take it," said Dillon, who replaced his older brother, Austin, in the No. 3 truck at the start of this season. "We had a tough day yesterday. We had a strong truck today, and it showed. We were real solid in the pits. We never fell back further than third."
Harvick and Dillon worked together during the race's numerous restarts to keep their trucks 1-2.
"There were a lot of scenarios we went through today," Harvick said. "Winning races is great, but I think when you see the way these guys in the truck shop have worked together to get prepared for this race and the way Ty and myself worked together for restarts, it was all good. We want to position him to race for the championship.
"We knew we had a solid truck program."
Harvick said he ran much of the race without solid braking, but that didn't matter.
He never slowed down.
John King, the winner of the series opener at Daytona, kept the point lead. Peters and Lofton are tied for second, one point behind. Dillon is fourth, four points out.
Mike Hembree is NASCAR Editor for SPEED.com and has been covering motorsports for 30 years. He is a six-time winner of the National Motorsports Press Association Writer of the Year Award.