TRUCKS: Harvick, Peters Return To Martinsville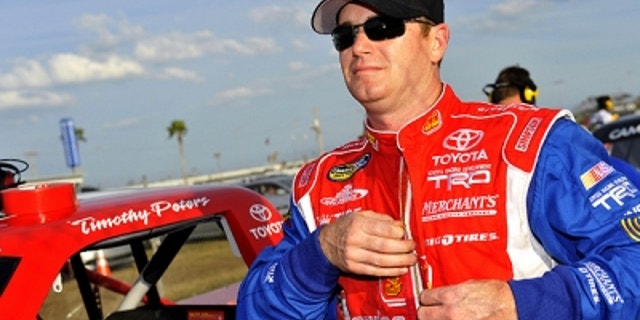 HARVICK, PETERS RETURN TO MARTINSVILLE WITH NEW PERSPECTIVES
FORMER NASCAR CAMPING WORLD TRUCK SERIES TEAM OWNERS EMBRACE ROLES AS HIRED GUNS
One of the best battles in Saturday's NASCAR Camping World Truck Series race at Martinsville Speedway (live on SPEED at 1:30 p.m. ET; NCWTS Setup with Krista Voda at 1 p.m. ET) could come between two former Truck Series owners and Martinsville winners.
Kevin Harvick, former co-owner of powerhouse Kevin Harvick Inc., and Timothy Peters, former co-owner of shoestring-budget Premier Racing, based in his Danville, Va. hometown, enter Saturday's race with just as much desire, albeit in someone else's equipment.
Harvick returns to Martinsville as driver of the No. 2 Kroger/Tide Chevrolet for Richard Childress Racing, while Peters continues in the No. 17 NTB/Service Central Toyota for Red Horse Racing, the organization he joined nine races into the 2009 season.
Slated to compete in both Martinsville races and the spring Dover event for RCR in the Truck Series, Harvick says that although Martinsville marks the first time since 2001 he has driven another owner's Truck, the half-mile track is one the driver in him couldn't miss.
"Martinsville is only about 35 minutes from the house (Kernersville, N.C.) so we had a lot of local support from the fans, the race track and our sponsors, so it's something that I definitely don't want to miss out on," Harvick said.
Peters, on the other hand, has both the win and the series championship in his sights this weekend after finishing runner-up to rookie teammate John King in the season opener at Daytona, placing him second in the point standings. Martinsville, where the 31-year-old notched his career-first win in October 2009, is next on his hit list. Not only is Martinsville 20 minutes from his hometown, Peters' track record there makes him a favorite with one victory, three top-five and seven top-10 finishes in 12 starts.
"In my book of accomplishments, it doesn't get better than winning at home, and my home is only 15 miles from Martinsville," Peters said. "When I was able to win Martinsville in front of a lot of family and friends, that moment was my pride and joy and still is."
Peters is leaving no stone unturned in his quest to win the 2012 championship, going so far as to travel two hours each way from his Danville home to Red Horse Racing's Mooresville, N.C., shop every week since the 2011 season concluded. Peters works on the trucks full-time alongside his crew members and also spends his share of time in the gym, allowing himself every possible advantage heading into the new season.
"I'm at the shop every Tuesday, Wednesday and Thursday," Peters explained. "I stay with one of the crew guys. Working on the trucks helps me relate to my crew chief more at the race track because I know how the truck is put together from the front bumper to the back. There isn't just any one thing they ask me to do. I used to decal my trucks all the time and enjoy it, so I have done that. If it's turning a wrench or helping the hauler driver wash the hauler or running to the store for goodies – whatever – I'm here for it.
"I'm also staying in the gym," he continued. "I wasn't in bad shape, but you can always be a little better, so I've been trying to whip my butt into shape. I like being here with the guys to let them know I appreciate the hard work and long hours and to let them know I'm with them. This is what my dad put into me."
Harvick is putting his newly-found extra time this season into his NASCAR Sprint Cup Series effort behind the wheel of the No. 29 Budweiser Chevrolet, in which he currently sits second in the point standings. Since he and wife DeLana relinquished their Truck Series ownership, Kevin says he is enjoying watching those races with a different perspective.
"I'm not so stressed out," Harvick said. "It definitely makes the Truck races a lot more fun for me to watch because I'm watching purely for entertainment as opposed to stressing out about performance."
With his two wins, six top-five and eight top-10 finishes in 13 Truck Series starts at the "paper clip," in addition to one win, three top-five and 10 top-10s in the Cup Series, Harvick knows his way around the place. But he also has learned a lot more than how to turn left and conserve brakes at the short track. When NASCAR parked him in the April 2002 Cup Series race following his aggressive driving in the previous day's Truck race, the 500 laps off taught the California native a little something about himself.
"That was one of many situations that happened early in my Cup career that definitely made me rethink how I approached the sport in general," Harvick reflected. "It shaped the kind of driver I am today as well as the kind of owner I was and it gave me a whole new perspective on how the sport worked."