TRUCKS: Hamlin To Drive For KBM Again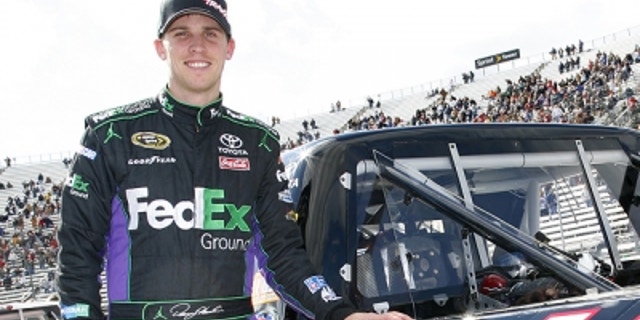 Denny Hamlin will pull double duty this weekend, piloting the No. 18 GNC Franchising Toyota Tundra for Kyle Busch Motorsports in Saturday's Pocono Mountains 125 NASCAR Camping World Truck Series race at Pocono Raceway.
Hamlin will, of course, also pilot his familiar No. 11 Joe Gibbs Racing Toyota Camry in Sunday's Pennsylvania 400 NASCAR Sprint Cup race at the three-turn, 2.5-miole speedway.
This will be Hamlin's first Truck Series start of the season, but if history is any indication, he will be one of the favorites on Saturday.
In 13 career Cup Series starts at Pocono, Hamlin has four race victories, eight top-five and nine top-10 finishes. He posted a ninth-place finish here in the inaugural Truck Series event in 2010.
"Pocono is obviously one of my better tracks, so I think that we'll have a good shot at adding another banner to the rafters at Kyle's shop," said Hamlin.
Last October, Hamlin made his first start with KBM, winning in Martinsville Speedway to become the 23rd driver in history to collect at least one victory in each of NASCAR's top three divisions. He also finished second driving for KBM in the season-ending — and rain-shortened — Ford 200 at Homestead-Miami Speedway.
"I really enjoyed driving the No. 18 Tundra for KBM the couple of races I did last year and I'm looking forward to working with Rick (Ren, general manager), Eric (Phillips, crew chief) and all the guys over there again," said Hamlin.
Winning in the highly competitive Truck Series had long been a goal for Hamlin, who has 13 previous starts in the division, with the aforementioned one victory, three top fives and seven top 10s.
"I had been trying to get my name in the record books as one of the drivers to win in all three series — doing one or two races a year — and I was finally able to achieve that goal with KBM," said Hamlin. "If it wasn't for the rain at Homestead, we probably would've been two-for-two. We had a really good truck and I was taking care of it waiting to make my move, when the skies opened up."
This weekend will be the second time NASCAR has visited Pocono since it was repaved. Crew chief Phillips said track position again will be one of the keys to victory.
"From what we saw in the Cup race there earlier this year, the racetrack is so much smoother," Phillips said. "You're going to have more speed and everyone will be a lot closer speed-wise, which will make track position and pit calls more important this year. You're going to have to stay up front because it will be really hard to get back through the field if you make a mistake and don't keep your track position."
Tom Jensen is the Editor in Chief of SPEED.com, Senior NASCAR Editor at RACER and a contributing Editor for TruckSeries.com. You can follow him online at twitter.com/tomjensen100.