TRUCKS: Go Time For Skinner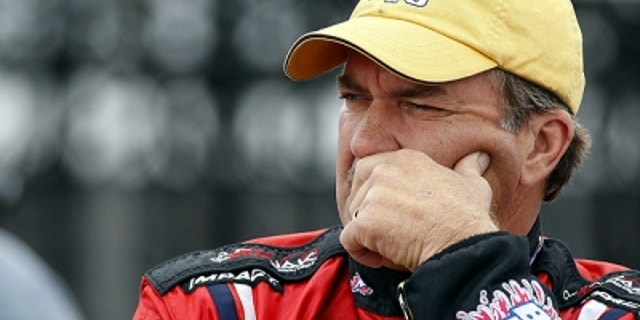 Mike Skinner's numbers speak for themselves.
The very first champion in the NASCAR Camping World Truck Series, Skinner has had an outstanding career that includes 230 Truck Series starts, 28 race victories, 90 top-five and 144 top-10 finishes.
None of which pays the bills in 2012.
Like a lot of veteran racers, Skinner is in a challenging spot heading into Friday night's NextEra Energy Resources 250 at Daytona International Speedway, the season-opening Truck Series which will be televised live on SPEED at 8 p.m. ET.
Just two weeks ago, Skinner put together a deal to drive the No. 8 Eddie Sharp Racing Chevrolet Silverado in the first Truck Series race of the year. Basically, Skinner and wife Angie agreed to fund the ride out of their own pockets first, and then managed to assemble a group of sponsors for the Daytona race.
If the heavens align perfectly, there's a chance Skinner could be in the No. 8 for the rest of the year. If not, he will be the latest in a long line of Truck Series champions — Ron Hornaday Jr., Todd Bodine, Ted Musgrave and Jack Sprague among them — who either changed teams or lost rides entirely because of economics.
Skinner said he has a contract with an un-named sponsor to run all year long, but so far the sponsor has not come up with money, so the decision was made to run Daytona and see what happens.
"We know it's a good truck, we know it'll have a great engine in it," Skinner said of his No. 8 ESR Chevrolet. "We just felt like I wanted to come down to Daytona one more time in a competitive situation. And then if the sponsor comes up with their deal and everything goes on, it will buy them a few more weeks to figure out where they're at and get their money together."
The Skinners have been very active for many years in a variety of charitable and philanthropic causes in Central Florida, and faced with a need of their own, they were surprised and delighted by the sponsors who stepped up to help them.
"We're just so blessed that this whole community has wrapped their arms around Angie and I," Skinner said.
In short order, the Skinners were able to put together an excellent sponsor plan for Daytona that includes American Auto on the lower rear quarter panels; Paytas Homes on the upper quarter panels; Halifax Health and the NC Trooper's Association (NCTA) / NC State Highway Patrol (NCSHP) Caisson Unit on the top of the truck bed; and Cricket SW3 on the hood.
"We've gone from nothing to almost fully funded for this race," said Skinner.
The challenge now becomes two-fold: Run well at Daytona and find enough money to run for the championship.
Performing on Friday night will be critical. Because this is a one-race deal that just came together two weeks ago, Skinner's crew doesn't have a lot of longevity and experience working with each other.
Skinner doesn't lack for confidence, though.
"I think the No. 8 truck is the truck to beat," he said, referring to himself. "I've got a lot of experience at this place."
And that could be his big advantage on Friday night.
"It's the experienced guys that race and have more laps than the other guys, are always, every week the people to beat," said Skinner.
Tom Jensen is the Editor in Chief of SPEED.com, Senior NASCAR Editor at RACER and a contributing Editor for TruckSeries.com. You can follow him online at twitter.com/tomjensen100.