TRUCKS: For 2012, A Title-Holder From Texas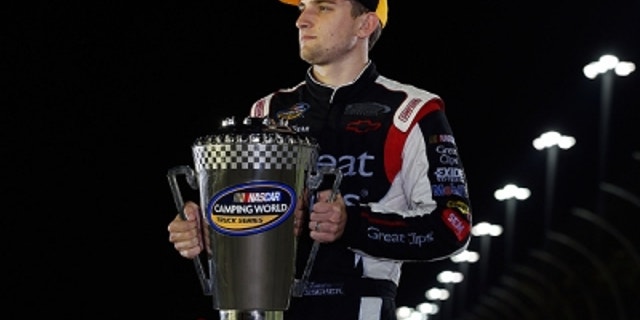 James Buescher missed a shot at the 2011 Camping World Truck championship in the worst of ways.
Two weeks into the 2011 season, Buescher failed to qualify for the schedule's second race – at Phoenix. He drove on to finish third in the final point standings, leaving open the question of what might have happened if he had simply made the Phoenix starting grid and earned even a handful of points from that outing.
But Buescher made that sort of question basically irrelevant in 2012 as he won the Truck championship that got away the previous season. At 22, he became the series' second youngest champion (after Austin Dillon, the previous year's champ).
Buescher also kept the championship in the family. He drove for Turner Motorsports, which is owned by his father-in-law, Steve Turner. Buescher is married to Krishtian, Turner's daughter.
It's the Turner team's first championship.
Buescher won four times during the season, becoming the only driver with more than two victories. All four wins came on 1.5-mile tracks.
He saved the best for the season's final weeks, taking the point lead with four races to go and staying there the rest of the year despite a last-race challenge from Ty Dillon, who finished fourth in points, behind Buescher, Timothy Peters and Joey Coulter.
Buescher finished the year with 10 top fives and 14 top 10s in 22 races. His average finish of 8.6 topped his 8.7 number from last year.
Buescher, who also ran a portion of the Nationwide Series schedule, won the Nationwide opener at Daytona International Speedway.
A native of Plano, Texas, Buescher starred on the short-track level before moving into ARCA racing and later the Truck and Nationwide Series. He bounced between the series before settling into the solid ride at Turner Motorsports.
Mike Hembree is NASCAR Editor for SPEED.com and has been covering motorsports for 30 years. He is a six-time winner of the National Motorsports Press Association Writer of the Year Award.