TRUCKS: Crafton Comes Up Big In Kansas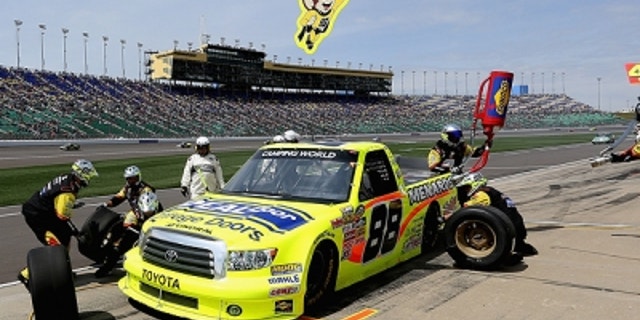 Veteran Matt Crafton came on strong late to win today's SFP 250 NASCAR Camping World Truck Series race at Kansas Speedway, a messy, crash-filled event.
Crafton fought off an intense challenge from Joey Coulter to place the No. 88 ThorSport Racing Toyota into Victory Lane for just the third time in 298 Truck Series starts. Ryan Blaney was third, followed by Brendan Gaughan and series points leader Johnny Sauter, Crafton's teammate.
Reigning Truck Series champion and defending race winner James Buescher started from the pole, after being fastest in both practices in his Turner Scott Motorsports Chevrolet.
Crafton, who is expecting his first child this week, was emotional in Victory Lane.
"Feels damn good," said Crafton, who moved to second in points. "I can't thank these guys enough. This truck was junk yesterday."
It was a difficult afternoon for just about everyone other than Crafton, as the wrecking started early.
On Lap 14, Kyle Busch spun at the exit of Turn 4 and went sliding through the infield to bring out a caution, although he didn't heavily damage his truck.
The luckless John Wes Townley crashed hard on Lap 28, as he backed into the Turn 4 wall after the field stacked up in front of him.
Just after the restart on Lap 34, Buescher got loose and slid up into teammate Miguel Paludo, sending Paludo's Chevrolet into the frontstretch wall, while several other trucks got wadded up behind them.
Busch, undaunted by his earlier spin, muscled past Buescher to take his first lead of the day on Lap 62.
Alas, it was not to be for Busch. On Lap 90, German Quiroga got loose under Busch in Turn 2, drifted into Busch and sent both trucks drifting up to the wall.
During a subsequent caution on Lap 114, Buescher came in as the leader, but a bad pit stop cost him nine spots on pit road. That put Joey Coulter into the lead with 50 laps to go after the caution period ended.
Once again, though, the fielded got wadded up on the restart, with Todd Bodine taking two savage hits, first from Bryan Silas and then hard into the wall. That brought out the red flag for 12 minutes and 41 seconds.
With 30 laps to go, it was Burton who spun, just as Matt Crafton took the lead. As the laps wound down, Crafton and Coulter began staging a dramatic finish, and although Coulter kept the pressure on, it was Crafton at the finish line by 0.167 seconds.
Tom Jensen is the Editor in Chief of SPEED.com, Senior NASCAR Editor at RACER and a contributing Editor for TruckSeries.com. You can follow him online at twitter.com/tomjensen100.