TRUCKS: Bodine Wins At Rainy Dover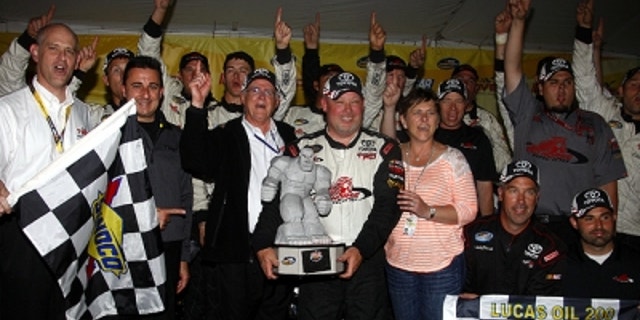 Former series champion Todd Bodine performed a spin-and-win Friday at Dover International Speedway as he finished first in the rain-shortened Lucas Oil 200.
Bodine slid and spun between turns three and four on the race's 67th lap, but he rallied later to move in front with rain threatening to shorten the event.
Showers ended the race at 7:10 p.m. with 147 of 200 laps completed. The event also was interrupted earlier because of rain with 120 laps recorded.
The victory is Bodine's first of the season and the 22nd of his Truck career. The win ended a 37-race winless streak dating to Sept. 2010 for the 48-year-old New Yorker.
Bodine led the race's final seven laps.
"We didn't have the best Tundra today," Bodine said. "It worked out. You don't like to win them this way, but I've lost them this way, so we'll take it and go to the house."
Bodine said his truck spun out without warning on lap 67 after an apparent tire problem.
The race was a tacky affair. It was slowed repeatedly by spins and slides and stopped twice because of rain. All of the laps were run under the threat of rain.
NASCAR put the race under the red flag after 120 laps because of persistent showers with Kevin Harvick in the lead.
Harvick, who stayed on the track during a caution period to keep the lead as his team anticipated the rain, dominated the first half of the race, leading 75 of the first 100 laps before weather parked the drivers on pit road for the first time. Harvick totaled 96 laps led for the afternoon.
A spin and contact with the wall by Wes Burton put the field under caution after the race had reached the halfway point, and the rain began during the caution, leading to the red flag.
Green-flag racing returned, however, and Bodine pushed to the front despite the near-calamity earlier.
Completing the top five were Parker Kligerman, Harvick, Nelson Piquet Jr. and Cale Gale. In the second five were Ty Dillon, James Buescher, Matt Crafton, Timothy Peters and Justin Lofton.
Dillon and Harvick tangled late in the race but both avoided spinning out to stay in the top 10.
Lofton entered the race with the point lead, one in front of Peters, and retained that margin.
Mike Hembree is NASCAR Editor for SPEED.com and has been covering motorsports for 30 years. He is a six-time winner of the National Motorsports Press Association Writer of the Year Award.