TRUCKS: Back In Trucks, Gaughan Excited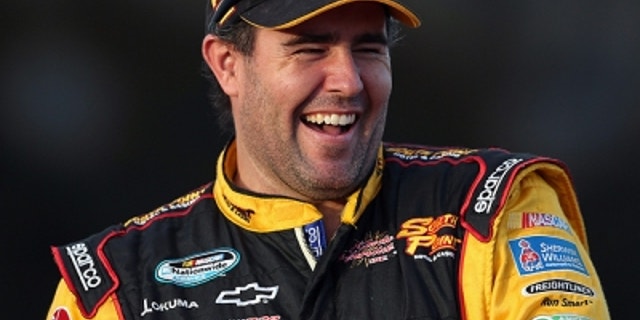 Brendan Gaughan's recent NASCAR history has been a bit dizzying.
He's bounced around the Sprint Cup, Nationwide and Camping World Truck Series, looking for a home.
He figures he's found it at Richard Childress Racing, where he's scheduled to race full-time in the Truck Series in No. 62 Chevrolets.
Gaughan ran eight Truck, 10 Nationwide and four Sprint Cup races last year and will be returning to the series where he has shown the most success. He won six Truck races in 2003 and almost won the series championship driving for his family-owned team, one crew-chiefed by Shane Wilson, who'll be atop his pit wagon this year, also.
With connections at RCR through his family's South Point Casino sponsorship, Gaughan decided to stay at the Welcome, NC shop and plug in to the program team owner Richard Childress picked for him. That was trucks, as a teammate to Ty Dillon, Childress' grandson.
"I don't care which series I'm in, I just wanted to be here at RCR," Gaughan said. "This is the last place I plan to race. If I can't do it here, I can't do it anywhere. Nationwide, Truck – whatever, I didn't care. I just wanted to be here."
Wilson has worked in RCR's Cup operation. Although he and Gaughan had some rough times, Gaughan figures he's set for some positives this year.
"Shane had an 'interesting' year last year," Gaughan said. "From his standpoint, I like it because he gets to come back down to the Truck series. In my eyes, I get probably the greatest crew chief in trucks right now. He's right off the Cup series and knows the trucks. I've got a guy who's overqualified to be here."
In addition to crew-chiefing Gaughan's truck, Wilson also is general manager of RCR's truck operation.
"Our goal is to win races and the championship," Gaughan said. "Shane has always said to go in low-key and surprise people, but I don't think there's anybody surprising anybody with a guy like Shane as crew chief and me with the experience I have in trucks. I don't think we can sneak up on them."
Mike Hembree is NASCAR Editor for SPEED.com and has been covering motorsports for 31 years. He is a six-time winner of the National Motorsports Press Association Writer of the Year Award.