Troubles continue for AJ Allmendinger after Michigan practice crash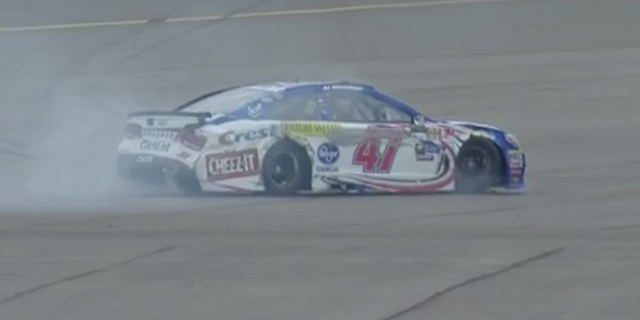 NEWYou can now listen to Fox News articles!
BROOKLYN, Mich. -- AJ Allmendinger is having a rough go of it so far during the 2017 Monster Energy Series season.
Aside from a third-place finish in the Daytona 500 and a sixth-place at Martinsville, Allmendinger hasn't finished higher than 17th in the other 11 races.
The veteran driver is mired back in 28th in the points standings, three positions behind JTG Daugherty Racing teammate Chris Buescher.
To add insult to injury, Allmendinger had the worst luck in Saturday's final practice session at Michigan International Speedway as he pancaked the right side of his No. 47 Chevy after making heavy contact with the Turn 2 wall with less than 15 seconds remaining. The team will have to go to a backup car and will forfeit their 25th-place starting spot.
Allmendinger said he had no indication the tire was going down.
"The left rear tire blew and I crashed," he said after the wreck.
With a 37-car field for Sunday's FireKeepers Casino 400 (2 p.m. ET, FS1), Allmendinger lost roughly 12 spots on the grid, joining Jimmie Johnson and Ty Dillon at the back of the field.
After posting the 28th fastest time in Happy Hour, he'll have his work cut out for him to get a good finish.
"This year has been a challenge, for sure," Allmendinger said. "If you look at where we are in points, it's been a big challenge. The aero package that NASCAR brought this year is probably, for a team like ours, has hurt us a little bit trying to figure it out. A lot of our testing, unfortunately, is at the racetrack."
Despite all the trouble the first part of the regular season, Allmendinger knows he has a strong team that is capable of rebounding as they continue to put in hard work and dedication.
"The chemistry of our race team is really good," Allmendinger said. "In a time of struggle, but that's kind of when you really see what your made of as a race team. Do you kind of start falling apart at the seams and start fighting each other, or do you stick together, work harder and go out and make things better."
Allmendinger's team, led by new crew chief Ernie Cope, has chosen the latter.
"I feel like we are slowly getting there," Allmendinger added. "We're by no means anywhere close to where we want to be, but over the last few weeks working together, everybody has really pitched in and worked hard."
Nigel Kinrade | Nigel Kinrade LAT Images www.latphoto.co.uk