Trooper Time: Taylor as outgoing as ever and enjoying a family approach at Arkansas State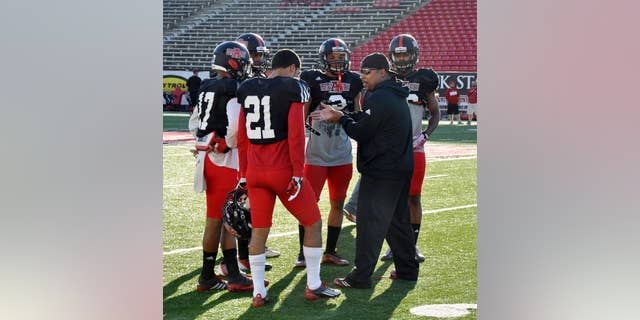 JONESBORO, Ark. – Andrew Tryon wasn't sure what to expect when he invited Arkansas State assistant coach Trooper Taylor to his daughter's birthday party this summer.
The Red Wolves' senior had become well acquainted with his new cornerbacks coach since his surprising hiring in January, but their interactions had largely been in football settings.
A birthday party, though? With people Taylor didn't know, or who didn't know about his backward hat-wearing, towel-waving, larger-than-life persona formed during his days as one of the top recruiters in the country at Baylor, Tennessee, Oklahoma State and Auburn?
It was an amateur social experiment for which a slightly nervous Tryon had no guess about the outcome.
Little did he know just how much he had underestimated the one and only Trooper Taylor.
"There he was, yelling, talking to everyone just like when he's on the field — with everyone just laughing," Tryon said about the birthday party. "I wondered what Coach Taylor was going to be like, with all these people he didn't know, but get him in front of 20 people he doesn't know, and he's just the same."
Whatever the setting, from some of the most high-profile jobs in college football to his current role at Sun Belt Conference-member Arkansas State, Taylor has never had a problem blending into his environment.
His latest reincarnation might well turn out to be his most rewarding — both personally and professionally. And it's come after undeniably the most difficult experience of his career.
Taylor, who grew up as one of 16 children in Texas, began his coaching career after having played and graduated at Baylor. His outgoing personality, and reputation as one of the top recruiters around, quickly helped him rise through the coaching ranks.
He eventually worked his way to Auburn in 2009, where he once again earned praise for his recruiting by helping establish Big Cat Weekend — an event aimed at helping coaches and recruits bond through a series of non-football related games and activities such as pie-eating contests.
Taylor was a member of the national championship staff a season later, but his once-promising career was left in doubt in 2012 when he was investigated by the NCAA for potential recruiting violations.
He's quick to point out no violations were ever committed or penalties handed down, but the baggage from the investigation made his return to Auburn impossible after Gene Chizik was fired and Gus Malzahn hired after the 2012 season.
"Anytime you go beat people on kids, especially at Auburn or any other place in that state with a rivalry like that that, it was always 'because he had to have cheated,'" Taylor said."... But if they're not saying anything about you, it's probably because you aren't doing anything. It's almost like a compliment."
Rather than jump back into a job at another school — as he had done while "chasing the money" early in his coaching career — Taylor decided to step away from the college game in 2013.
He spent more time with his wife, Evi, and two children — coaching and watching son Blaise play his senior season of high school football while helping him with the recruiting process. Taylor drove his daughter to school at Auburn High in the mornings, and he spent his evenings taking walks with his wife while "learning the dog's name."
"I learned more about my daughter driving her to school every morning than I did in the first 12 years of her life," Taylor said.
Near the end of Taylor's sabbatical from the college game, he received a phone call from former Baylor teammate and recently hired Arkansas State coach Blake Anderson.
Anderson knew he wouldn't be able to pay Taylor nearly as much money as other suitors, but he made it clear he wanted his friend to be a part of the Red Wolves staff — but only after Taylor had gone to the annual coaches' convention and considered other jobs.
Taylor was indeed offered coaching jobs by two Southeastern Conference schools, but the allure of a family first approach with his college teammate and friend was too much to pass up.
And Taylor has been a perfect addition to the Arkansas State staff as far as Anderson is concerned. The Red Wolves (5-3, 3-1 Sun Belt) are chasing a share of their fourth conference title in the last four seasons, and they already have 22 high school players committed to sign in February — though Taylor deflects any praise to the rest of the coaching staff.
"He's an even better recruiter than I imagined," Anderson said. "He just has a passion for it and treats everybody, from grandmother to daughter to dad to stepdad, five-star or no-star; he treats them all like they're the best ever, and they all believe it when they leave."
Taylor's family has settled in well in Jonesboro, with his wife working as a professor at Arkansas State and his son a freshman on the football team. Also, his daughter, Starr, is a standout high school basketball player.
The calls from coaches seeking to poach Taylor from the Red Wolves after this season have already come. While Taylor won't say never to the possibility of leaving Arkansas State, he does point out his family has saved plenty of money over the years and values simpler things in life these days.
"People look at me and see me here and say, 'Wow, he moved to the bottom,'" Taylor said. "I'm at the top. Their perception of the car I'm riding in and my perception are far different.
"I just want people to understand that my loyalty is to happiness. And I am happy working for Blake and with how everyone has treated my family here."