Trips to playoffs are more special now for Lidstrom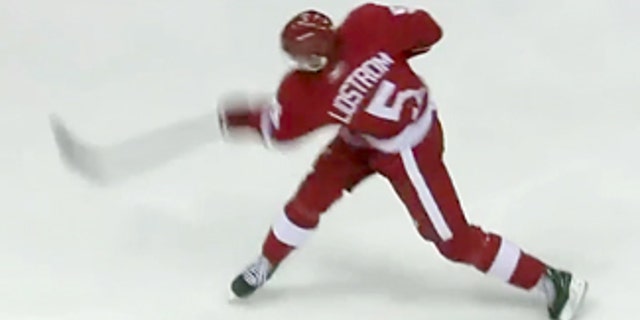 When the Detroit Red Wings clinched their spot in the Stanley Cup Playoffs -- the 20th straight season they've done it -- Red Wings General Manager Ken Holland talked about one of the major reasons for that streak, the longest current run in North American professional sports.
"He's a big reason why we have been in the playoffs for 20 years, and Nick has been here for 19 of them," Holland said. "He's the best defenseman of his era and I think he's the most valuable player of his era."
Lidstrom's Hall of Fame resume already was well-polished even before this season. But at 40 years old, he's having another average -- read: stellar for mere mortals -- season. His 62 points are second among all NHL defensemen, and his 16 goals are third. His average ice time of 23:31 per game leads all Red Wings players. It's 27th among all blueliners, and one second more per game than No. 28, the Senators' Erik Karlsson, who is exactly half Lidstrom's age.
He's sixth all-time among defensemen in games played (1,491), assists (855) and points (1,108), and his 253 goals make him one of just nine blueliners all-time with at least 250. The six-time Norris Trophy winner -- and there could be a seventh coming in June -- has won four Stanley Cups.
Getting the chance to win a fifth is what Lidstrom is concentrating on now. The Wings have won the Central Division and are fighting the San Jose Sharks for the No. 2 seed in the Western Conference.
That's a major change from last season, when the Wings struggled for most of the season. At the Olympic break, the Wings were just 28-21-12. Their 68 points left them ninth in the conference, one point behind eighth-place Calgary and 17 behind Central Division-leading Chicago.
"Having been with such a good organization for 20 years, and being part of a winning tradition here, you almost take it for granted," Lidstrom said. "I think last season was the first time where we really had to battle. We were on the bubble pretty much the whole season up until after the Olympic break."
After the break, the Red Wings played to a level hockey fans have become accustomed to over the last two decades -- they went 16-3-2 to finish fifth in the West with 102 points, 10 behind Chicago.
They won a dramatic seventh game in Phoenix in the first round, but lost in five games in the conference semifinals to the San Jose Sharks.
The experience of fighting and clawing over those final 21 games just to make the playoffs taught Lidstrom something -- that making the playoffs really isn't all that easy. For the first time, he said, he learned to really appreciate making the postseason.
"Yeah, I think I do (appreciate it more now)," he said. "I think I know that especially with the parity in the League the way it is now, it's so close. Looking at the races in both conferences, it's such a close race where it might come down to the last game Sunday who is going to make the playoffs or not. It's such a hard League to win in nowadays … so I think that makes you appreciate it even more."
To show that appreciation, he's going to keep going full bore, the same as he has all season, for the Wings' final three games. For one thing, there's that second seed still up for grabs. Also, he believes it's important to enter the postseason on a good streak.
"I think that can carry you into the playoffs, if you're playing well down the stretch in the last week of the regular season," he said. "And I think it's hard to just kind of sit and wait for the playoffs and then all of a sudden you're supposed to turn it on and play your best. I think you can carry that momentum into the playoffs and that's something we have talked about as a team, to play well and really pay attention to details in our games, whether it's special teams or defensive-zone play, little things like that. I think you need to be on top of it, and so I think it's important to play well heading into the playoffs."
He's also helping pass that message along to the team's younger players. While many of them were part of back-to-back trips to the Stanley Cup Final in 2008-09, roles have changed. Darren Helm, Justin Abdelkader and Jimmy Howard all have far different roles this season than they did just two seasons ago.
"You try to help the guys, especially the younger guys, when the playoffs come around," he said. "You know you're going to need the depth. You never know what can happen in the playoffs with injuries or whatnot. So you have to be prepared. You have to be … if you're not playing, you've got to be, you know, working out after practices, just being ready just in case so you can jump right in. That's something we try to talk about as a team."
He said Howard, who got his first taste of being a starting playoff goaltender last season, learned an important lesson by going through the two-round experience.
"I think he gained a lot of experience being part of the playoffs last year, knowing what it takes and that it is different than the regular season and the pressure is there and you have to show up every night," Lidstrom said. "It's a lot tougher than the regular season. I think he learned that from last season."
Lidstrom also learned his own lessons, and despite his 247 games of Stanley Cup playoff experience -- second all-time to Chris Chelios' 266 -- the usually unflappable veteran admits to still feeling the butterflies.
"I still get excited to hit the second season as we sometimes call it when the playoffs start, and I still get a little bit nervous, I still get the jitters," he said. "I look forward to the playoffs and people in this town really get excited about the playoffs, too. So it's something I'm really looking forward to still."
Contact Adam Kimelman at akimelman@nhl.com. Follow him on Twitter: @NHLAdamK