Triple Crown Hopeful I'll Have Another Forced to Retire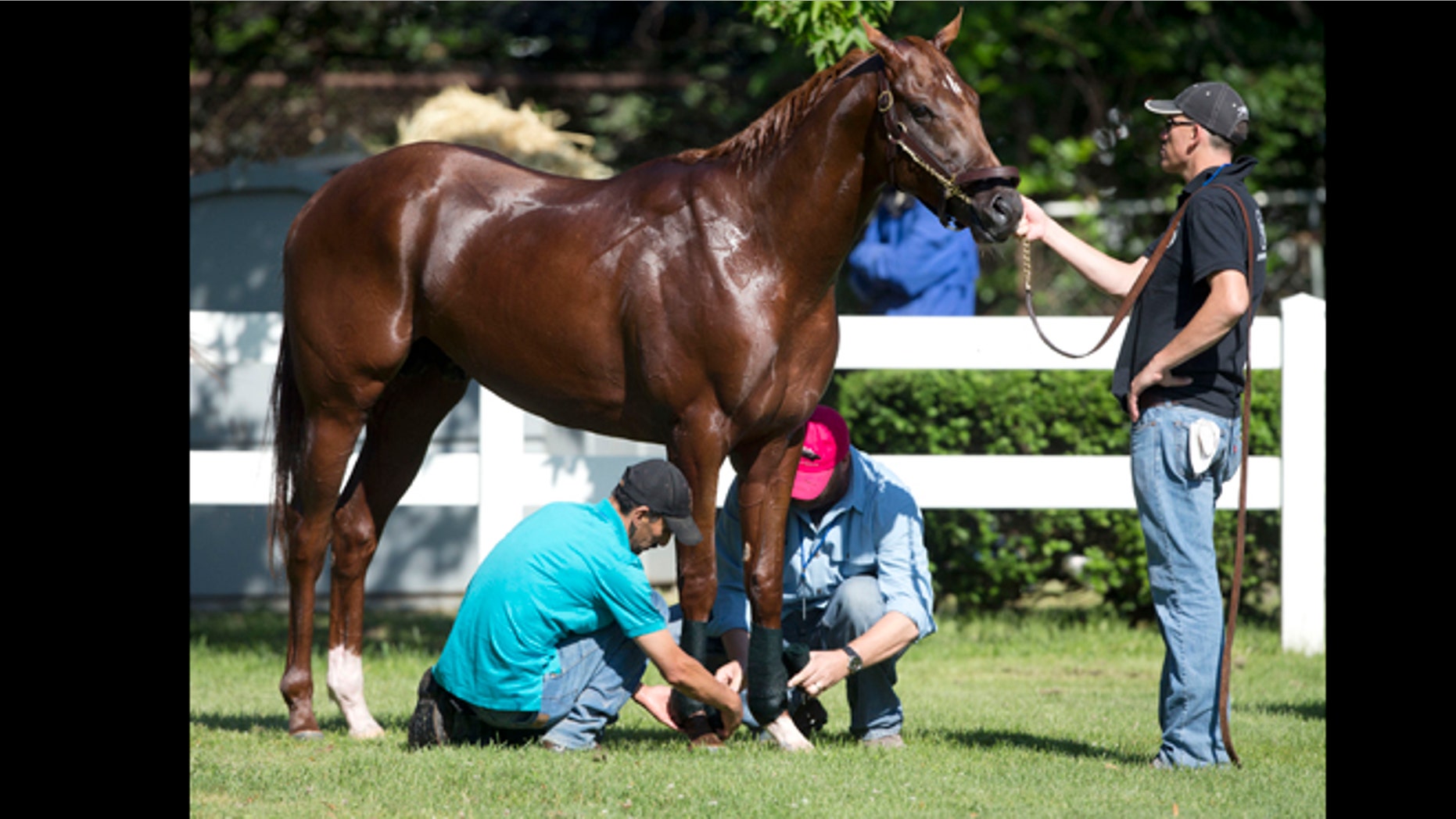 Triple Crown hopeful I'll Have Another was scratched from the Belmont Stakes Friday afternoon with a swollen left front tendon, ending the racing career of the three-year-old colt.
"I'll Have Another is retired," the owner of the colt, Paul Reddam, said at a Friday press conference. "I'm afraid history is going to have to wait for another day."
Trainer Doug O'Neil explained that the horse galloped Friday morning and later received a veterinary scan because the tendon seemed "kind of tender."
"It was a freakish thing," O'Neil said. "In the afternoon we noticed a loss of definition in the left front leg."
I'll Have Another's injury was described as the start of tendinitis.
Both O'Neil and Reddam said that the horse "is sound and happy, but it's not worth it."
"Could he run and compete? Yes," O'Neil said. "Would it be in his best interest? No."
O'Neil explained that after three to six months it was possible for the horse to run again but it was unanimously decided by all of those involved to retire him.
"It's devastating. I thought this was going to be one of the greatest races in history, and I wanted the opportunity to be part of it," said Dale Romans, trainer of second favorite Dullahan. "But this is bigger than that. This is terrible news."
The three-year-old colt, and his jockey Mario Gutíerrez, were trying to become the first to win the Triple Crown in 34 years.
"I called Mario this morning, and he was sort of stunned, he didn't really say much," Reddam said. "He was sad for the horse. He had a tremendous bonding with I'll Have Another. He expressed no disappointment about him unable to ride in the Belmont."
For Gutíerrez, a native of Veracruz, Mexico, his unexpected road to the Belmont Stakes has come to an end. While every jockey dreams of riding in the sport's biggest spectacles, the dream didn't become reality for Gutíerrez until a couple of months ago.
"I come from a very small town, and my family didn't have much money," he told Fox News Latino. "I was racing quarter horses. I didn't even know about thoroughbred racing really. I just knew I wanted to be a jockey like my dad."
The bombshell announcement comes after O'Neill sent the Triple Crown hopeful out for a final gallop in secrecy the day before the Belmont Stakes.
O'Neill said the decision was made to bring his Kentucky Derby and Preakness winner to the track shortly after 5:30 a.m. Friday to avoid congestion around the detention barn housing the 12 horses entered for the Belmont. The colt jogged and then galloped around the 1½-mile oval accompanied by stable pony Lava Man.
After a loose horse nearly collided with I'll Have Another on the track last week, NYRA established a 15-minute window, from 8:30 a.m. to 8:45 a.m.— just for Belmont horses to be on the track.
O'Neill had declared his colt "fit and ready to go."
"This is extremely tough for all of us, although this is far from tragic it is extremely disappointing. I feel so sorry for the whole team," Doug said. "We have had such an amazing run."
I'll Have Another, with jockey Gutiérrez, went from 15-to-1 shot to Kentucky Derby winner. No longer under the radar, he entered the Preakness as one of the favorites at 3-to-1.
Tickets for the Belmont Stakes which average $10 to $20 each were going for as much as $800.
Contains reporting by the Associated Press.
Follow us on twitter.com/foxnewslatino
Like us at facebook.com/foxnewslatino