Trio of Padres suffer injuries in loss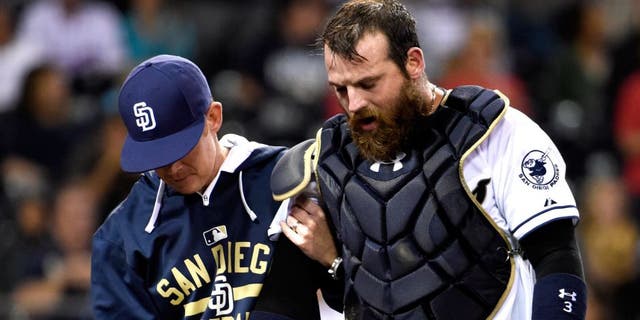 NEWYou can now listen to Fox News articles!
The San Diego Padres were outscored by the Texas Rangers on Tuesday, but that was hardly the only loss they suffered.
The Friars not only tacked on their fourth loss in six games, falling to 10 ½ games back in the NL West, but experienced a handful of injuries to key players.
First baseman Yonder Alonso, catcher Derek Norris, and reliever Shawn Kelley were all forced to leave Tuesday's game with various ailments, some of which may keep them out of the lineup for an extended period of time.
While Alonso, who experienced lower back tightness, said he "should be OK in a day or two" after the game, Norris' and Kelley's fates are hardly as certain.
Norris hyperextended both his elbow and shoulder on a play at the plate, and while he is hopeful he'll return on Wednesday, he may be forced to sit out a few games due to the injury.
"They'll see how it feels tomorrow when I wake up," Norris said. "Sometimes these things can bounce back quick, sometimes they linger. ... Hopefully we'll be OK to go tomorrow. We'll see."
Kelley's prognosis is up in the air as well after he was forced to leave the game after feeling tightness in his forearm during warm-up pitches. He was later diagnosed with a forearm strain.
"I just felt some tightness in my forearm, just some discomfort, tingling," Kelley said. "It just didn't feel very good. I think I felt something a little different on the pitch before to [Elvis] Andrus. ... I was 50/50 if it was going to feel good on that warm-up pitch. It didn't feel good."
Interim manager Pat Murphy was perplexed by the rare trio of injuries.
"We had three guys go out tonight in the game," Murphy said. "That's very unusual."
With another loss on Tuesday and key players bruised up, the Padres' hopes of making the postseason have dwindled after a strong stretch after the All-Star break.
Heading into Wednesday's game, San Diego is in fourth place in the NL West with a 64-68 overall record.