Trimmer Gerald McCoy ready to lead Bucs out of NFC South cellar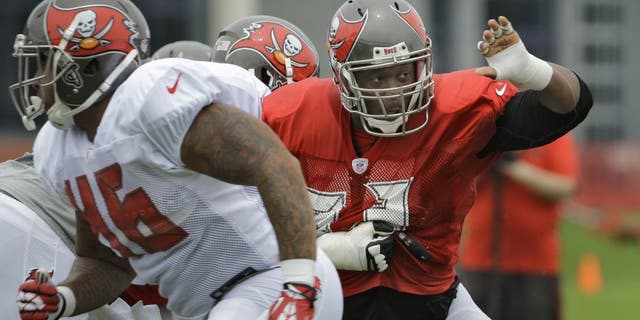 TAMPA, Fla. (AP) -- Gerald McCoy is entering his sixth NFL season and has yet to lead the Tampa Bay Buccaneers to the playoffs.
That doesn't sit well with the three-time Pro Bowl selection, who is determined to help the team end a postseason drought and become relevant again.
The Bucs went 2-14 a year ago and missed the playoffs for the seventh straight season. They haven't won a playoff game since the team's 2002 Super Bowl run. They have only posted a winning record once since McCoy entered the league as the third overall pick in the 2010 draft behind Sam Bradford and Ndamukong Suh.
"When I was young, I was allowed to be young. ... I'm not there anymore. I'm going into my sixth year, and I truly believe this team will only go as far as I go," the 27-year-old defensive tackle said.
"When you have a dominant guy in the middle, it helps everything out around him, which is our defense. Most of the teams that are winning have a great defense," McCoy added. "That's another reason why I had to come in in great shape. There's really no more talking (that) needs to be done. I'm going into my sixth year and haven't been in the playoffs. It's like, enough is enough. I definitely feel the urgency ... to get it done."
The Bucs were one of the biggest disappointments in the league last season, the team's first under coach Lovie Smith.
While the defense showed signs of improvement over the second half of 2014, the offense sputtered and finished 29th in scoring while ranking near the bottom of the league in both rushing and passing.
McCoy has never wavered in his belief Tampa Bay is not nearly as far away from turning the corner and re-emerging as a championship contender as four consecutive last-place finishes might suggest.
The team went 10-6 but missed the playoffs during McCoy's injury-shortened rookie season, but has gone a NFC South-worst 4-12, 7-9, 4-12 and 2-14 since.
Despite stumbling to their worst record in 28 seasons a year ago, McCoy remains confident the Bucs are headed in the right direction under Smith.
"It was the first season, things happen. Some things didn't go as we thought they would with some of our offseason pickups. ... But that doesn't take away from his vision and what we see moving forward," McCoy said.
He noted this year's defense should benefit from the experience it gained in the Tampa 2 system Smith installed last season.
And, the addition of several newcomers who either have played for Smith before or have backgrounds in similar systems -- namely tackle Henry Melton, linebacker Bruce Carter, cornerback Sterling Moore and safeties Chris Conte and D.J. Swearinger -- could make a difference, too.
"On any of the great teams or teams that win, they have a great foundation and a great group of leaders to put guys in place, and the young guys have someone to look up to and know how to do things," McCoy said.
"With us having a year under our belts, the young guys or the guys who were not here, they now can look up to us," he added. "We know exactly what (Smith) wants, how he wants it -- not just on the field but off the field, in meeting rooms, in the cafeteria. ... That's definitely going to be an advantage going into this year."
McCoy is eager to do whatever necessary to help the team get over the hump in 2015. That includes reporting to camp 12 pounds lighter than his playing weight of a year ago, when he missed three games but still had 8 1-2 sacks and was selected to play in the Pro Bowl the third straight season.
"One thing (defensive line coach Joe Cullen) does is he breaks every player down and he tells us what we need to do to have a career year, or what we need to do to help this team out," McCoy said.
"He told me with who I am to this team, who I am to this defense, I need to be in the best shape of my life," the defensive tackle added. "I took that to heart and tried to come back in the best shape I could."