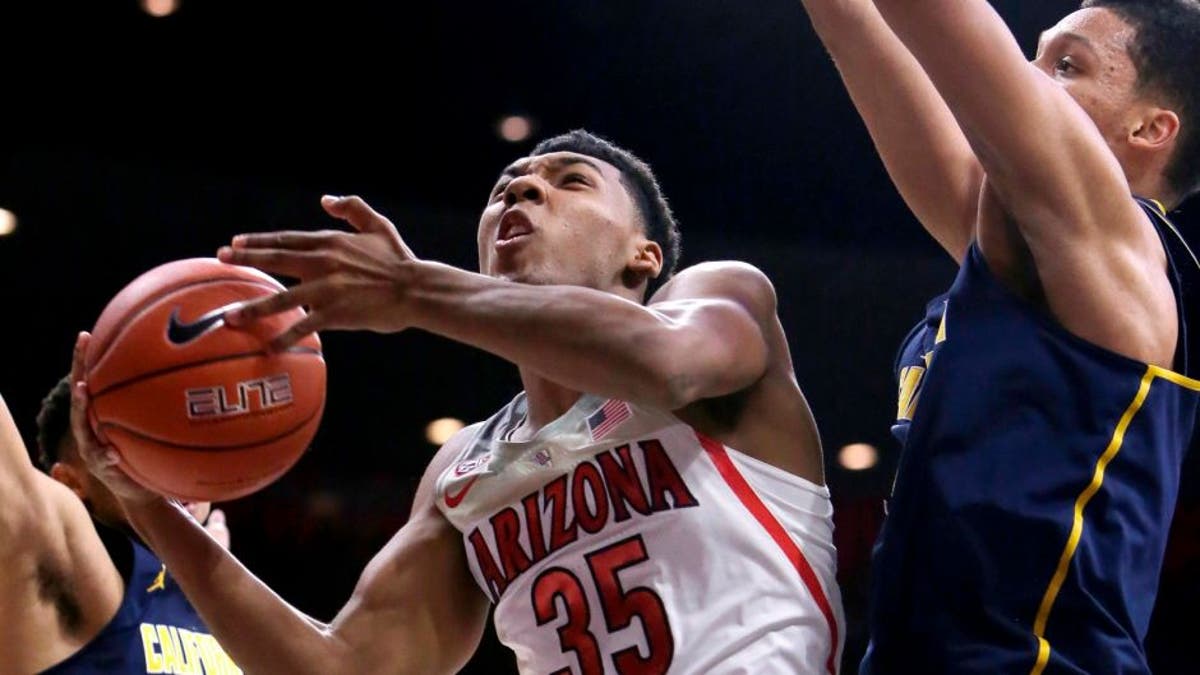 TUCSON, Ariz. -- Allonzo Trier and Lauri Markkanen, Arizona's top two scorers, were non-factors offensively most of the night, combining to make one shot.
But one thing that makes the Wildcats so good, especially at home, is their depth. They learned to spread the ball around when Trier was suspended earlier this season and they're continuing to do it in the seven games since he returned.
Kobi Simmons scored 13 points, Dusan Ristic added 12 and No. 9 Arizona stretched its home winning streak to 20 games with a 62-57 victory over California on Saturday night.
"We're used to adjusting," said Simmons, who made 5 of 8 shots, including both of his 3-pointers. "We've been through some ups and downs during the season, and players step up and play well."
Arizona (23-3, 12-1) learned earlier Saturday that it is currently a No. 3 seed in the Midwest Region after the NCAA Tournament selection committee released its preliminary rankings. The Wildcats capped the day by holding off a solid team fighting for an NCAA spot despite Trier and Markkanen combining for nine points on 1-of-10 shooting.
Kadeem Allen helped picked up the scoring slack with 11 points and Arizona had a strong night on the glass to go with a solid defensive game to remain atop the Pac-12. The Wildcats had eight more rebounds, including an 11-4 advantage on the offensive glass, held Cal preseason All-American Ivan Raab to four points and three rebounds.
"We thought Cal was going to come in here and try to bully us, and play more physical," Allen said. "But tonight we passed the test and matched their intensity, got the job done."
Cal (18-7, 9-4) has made a big push into the NCAA Tournament bubble, stretching its winning streak to five games with a 15-point win over Arizona State on Wednesday.
The Bears kept it close against Arizona despite playing the second half without point guard Charlie Moore, but were never able to make a big run after the Wildcats built a nine-point halftime lead.
Jabari Bird led Cal with 19 points.
"That was two really good teams out there competing and playing hard," Cal coach Cuonzo Martin said. "It was a chess match and a hard-fought game. They did enough to win the ball game."
Arizona played better defensively than it did in a closer-than-expected win over Stanford on Wednesday and led 34-25 at halftime behind Simmons' 10 points , including two on a turnaround runner to beat the shot clock buzzer.
Raab was limited to two points in six minutes in the first half due to foul trouble. The Bears then had to play the second without Moore because of a hip injury.
Cal still managed to hang around even without its floor leader, pulling within 43-39 midway through the second half. Bird helped keep the Bears close in the second half, but Arizona never let Cal pull any closer.
"If you lose a guy like Charlie Moore, a guy who averages 14 points a game, which is a big loss for a guy who is real shifty at making plays," Martin said.
ROOKS TRIBUTE
Arizona picked a perfect night to pay acknowledge former player Sean Rooks.
The Wildcats had a pre-game tribute to the late star on the same night his son, Cal junior center Kameron, was in town.
"Every time I hear his voice, it puts a smile on my face," Rooks said. "I love seeing him and it's all I can see right now."
BIG PICTURE
Arizona took care of its business at home against a solid team, which should keep the Wildcats in the top 10. Losing on the road to a Top 10 team should not hurt Cal, especially since the Bears managed to keep it close.
UP NEXT
Arizona plays at Washington State on Thursday, then heads to Washington on Feb. 18.