Tre Boston explains how divine intervention at a gas station led him to sign with Chargers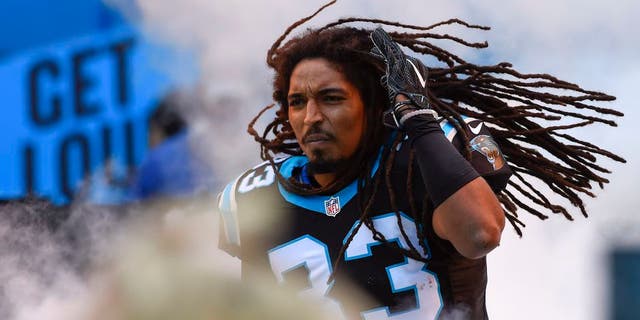 The Carolina Panthers surprisingly released Tre Boston this offseason after he started 10 games for them in 2016. He had a very respectable year, picking off two passes with a career-high 53 total tackles, but perhaps he didnt fit with new defensive coordinator Steve Wilks system.
The Panthers loss is now the Chargers gain with Boston opting to sign with Los Angeles last week. He did his due diligence by visiting the Chargers, Bills and Steelers, but ultimately, Los Angeles was where he wanted to be.
He didnt fully realize that until he stopped at a gas station in Charlotte, N.C., where he was residing. It sounds completely unrelated, but a strange coincidence happened while he was pumping his gas.
Via ESPN.com:
"I crossed two lanes to get to the gas station," Boston said. "I pump my gas. After I pump my gas, I put my wallet in my car. After I put my wallet in my car, there's a guy with three kids and he asked me for a little bit of change, or if I had a dollar or two. I gave him a $20.
"So he tells me thank you so much, and that God put me in his life for a reason. And in my mind I'm saying you're here for a reason, too. So in my mind I'm saying should I ask him, 'L.A. or Buffalo.' And before I could ask him, my man told me, 'Thank you so much. There aren't too many people like you in this world, God's children. My name's Mike Daniels, but people call me L.A.'"
What are the odds that the guys nickname was L.A.? I wont put a number on it, but they couldn't be very good. However, for Boston, it helped him make up his mind, and how could it not? The Chargers were a perfect fit for the former Panther, giving him the opportunity to become the starting free safety. The guys nickname just sealed the deal.
After Boston realized the sign he just received, he gave the man $100 instead of the $20 he originally handed him.
"I ended up giving him $100 because I knew he changed my life, just like I knew I changed his life," Boston said. "Honestly, that's the reason why I'm here. It didn't matter how much money was given to me. It didn't matter really who was on the team, it just happened to be a great fit.
This is similar to Tony Jefferson using uniforms in Madden to decide where he should sign he landed with the Ravens but Bostons experience of divine intervention was far more unorthodox than Jefferson's method.