Travis Browne: I would go through hell and back for Ronda Rousey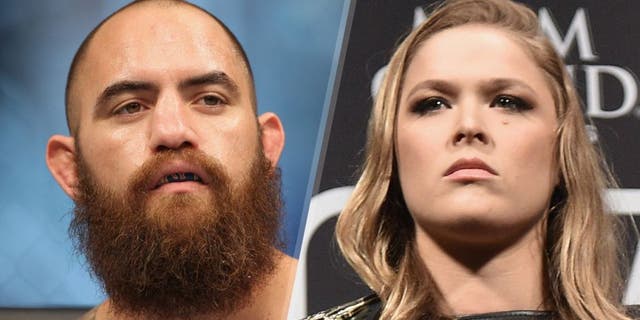 UFC heavyweight Travis Browne is proud to stand by his girlfriend Ronda Rousey through good times and bad, including her knockout loss to Holly Holm last November where the former women's bantamweight champion admitted she had suicidal thoughts in the first moments after the fight.
Rousey spoke extensively about the dark place she sunk into just after losing to Holm, which marked the first professional loss of her MMA career. The thought of killing herself was fleeting according to Rousey, who spotted Browne just after the fight happened and it pulled her out of the mire and back into reality.
"To be honest, I looked up and I saw my man Travis was standing there and I looked up at him and I was like I need to have his babies, I need to stay alive. Really that was it," Rousey said.
"I think I've only told him that but that's what I was thinking. I was meant to have him when I was at my lowest. I don't know if I would have made it without him."
Now Browne is speaking out for the first time about Rousey's comments and according to him, he's not looking for some kind of award for being there for his girlfriend in one of her lowest moments to help her up again.
Browne says that's what any real man should do for his woman and that's exactly what he did for Rousey when she needed him that night.
"I was there to support her in any way I could, just like any man would do for his woman," Browne said in an interview with Activ8Media.com "It's pretty simple. There's no magic in it. We go through those dark times and we need someone to lean on. I hate the fact that she had to go through that dark time, but like she said, it happened for a reason and there's a great purpose. This is our story and this is our life, and I would go through hell and back for her.
"It means a lot that somebody would look at me in that way, especially Ronda. She's such a sweetheart. She's a great fighter and athlete and a big movie star, but what impresses me most is the woman that she is. She is who she is 100 percent of the time and I really respect that about her, just the woman she is and that's what I love most about her."
Browne was actually the one who revealed his relationship with Rousey last year after the two had already been dating for quite some time.
Considering how high profile Rousey does these days, it seems difficult on the surface to maintain a normal relationship like theirs with prying eyes always looking at them but Browne says that's never really been the case.
Despite the public perception that people care so much about everything Rousey is involved with, particularly her relationships, Browne promises that they just care about each other and aren't worried what anyone else has to say about the two of them being together.
For instance this occasion back in November is getting a lot of attention right now, but Browne doesn't see it as some colossal turning point in how he was able to stand by Rousey in her moment of pain.
He was just glad he could be there for her when she needed him.
"Honestly, I don't look at it as going through a lot," Browne said. "There's a perception that people have and they don't see our real relationship and, honestly, they don't see how wonderful it is. The way that we handle it is by being in the moment with each other. It's a relationship between Ronda and myself, and we keep it that way. We don't go outside of that and we don't care what other people think. We're there for each other and that's it.
"Obviously we love each other and I'm just glad I could be there for her. That's what a partner is there for. They are there for support whenever you need them, for good times and bad. We dedicate our lives for this sport and I'm glad I could be there for her and show her that support."