Transit woes mark New Jersey-New York Super Bowl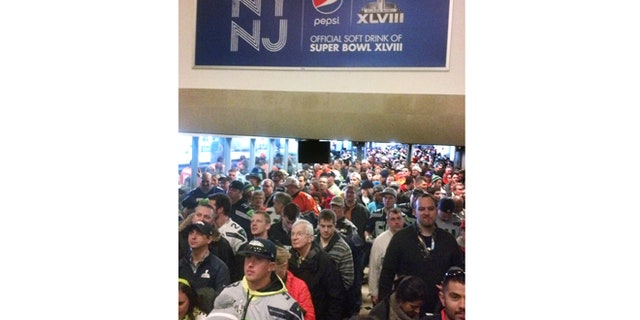 The first outdoor, cold-weather Super Bowl was not only a nightmare for the Denver Broncos, who were pounded by the Seattle Seahawks 43-8, but also for the thousands of fans who waited in long lines hours after the game to board overcrowded trains heading back to New York City.
Organizers had dubbed the game as the first mass-transit Super Bowl and spent considerable effort urging fans to take trains or buses to MetLife Stadium in East Rutherford, N.J. The message apparently took hold, as nearly 28,000 rode the rails from nearby Secaucus Junction. That far surpassed New Jersey Transit's previous record of 22,000 riders in 2009 for a U2 concert, and nearly doubled optimistic pre-game estimates of 15,000.
But after the game ended, fans converged on the rail station for the return trip, clogging the platform as trains loaded and left when full.
"80,000 people coming out of a stadium and they're all going into one train," Dennis Luca, a Broncos fan, told NJ.com as he stepped in line to wait with his daughter and son in law.
The agency eventually opened a second platform to accommodate the overflow crowd. It finally took NJ Transit bringing in more than 50 buses to shuttle fans to the Port Authority terminal in New York City — almost two hours after Seattle completed its victory over Denver — to eliminate the long delays at the stadium area.
Terry Thon, a Denver resident who attended the game, told NJ.com that it took him three hours to reach the Secaucus Junction train transfer station. He then had to wait another 45 minutes for the next train.
Seattle natives Jeff Chapman, 40, and his childhood friend Willie Whitmore, 39, were also caught up in the delay and anxious to get home.
"This is a joke," griped Chapman, an engineer. "We're not even from here and we could've told you this would've happened."
"What do you expect when you don't give people any other option to get home," added Whitmore, a project manager. "It's ridiculous."
A NJ Transit spokesman told The Associated Press early Monday that nearly 25,000 passengers had been moved to Secaucus by midnight, two hours after the game, and that overall it was a "tremendous success," considering the volume of passengers transported without accident or incident.
When the last train cleared the platform at 12:45 a.m., 32,900 people had been transported by rail and more than 1,100 others taken by bus to Port Authority, a transit spokesman said.
Transit officials told NJ.com that the agency transported three times as many fans out of MetLife Stadium after the Super Bowl than a typical New York Giants or New York Jets game.
"We've moved more people than we've ever moved in and out of this place," said Jim Weinstein, an executive director of NJ Transit.
At MetLife, an announcement on the scoreboard asked fans to please stay in the stadium due to congestion at the platform. New Jersey State Police urged fans via Twitter to "enjoy the stadium atmosphere until congestion dissipates."
Dan Steidl, 27, from Green Bay, Wis., was waiting for 45 minutes with very little movement.
"This is terrible," he said. "I'm ready to get out of here but I don't know when that'll happen."
Emergency medical personnel also told The Associated Press that they had to treat several people who collapsed when the Secaucus station became overcrowded earlier in the day as thousands of fans were trying to get to the game. Lines began moving again after a little more than an hour of delays.
"It was kind of a bottleneck," NJ Transit spokesman William Smith said. "A number of trains arrived at once."
Earlier in the day, security was slow at train stations, but by 5:15 p.m., a little more than an hour before kickoff, 80,000 folks had already made it into the stadium. NFL spokesman Brian McCarthy said it was the earliest arriving Super Bowl crowd in at least 30 years.
The rest of the festivities went off without a hitch. Many fans clad in Seahawks blue and green and Broncos orange shed their winter coats and posed in shirt sleeves next to ice sculptures on the MetLife Stadium grounds before Sunday night's game. It was a scene organizers who convinced enough NFL owners in 2010 to vote to hold the game here likely didn't dare dream would happen.
"This is amazing," said Molly Boyle, 27, a Seattle fan who lives in New York City. "I couldn't wish for a better ending for our team."
Meanwhile, Denver fans were sulking. Many left before the beginning of the fourth quarter when the Seahawks' lead became insurmountable. By the end of the game, there were barely any orange jerseys left in the stadium.
Sean Doyle, 42, an attorney from Denver, left after the third quarter and went shopping for souvenirs with his wife.
"I'm extremely disappointed," he said. "I gave up hope."
Nearly 100 federal, state and local agencies collaborated on security in and around the stadium, with coverage ranging from state police boats in the Hackensack River to sharpshooters on the roof of the Meadowlands Racetrack to bomb-sniffing dogs checking vehicles as they entered the parking lot.
"There's so much security here and the environment is so controlled that it acts as a deterrent," New Jersey State Police Superintendent Rick Fuentes said. "We may end up having fewer incidents than at an average Giants or Jets game."
By late in the game, state police reported four people were arrested during the game, including two arrests for unlicensed vendors, one for drunken disorderly conduct and one for trespassing.
The celebratory mood carried over the nearby Hudson River and onto the streets of New York City, where Seahawks fans were cheering and dancing around the Blarney Rock Pub in midtown Manhattan as the game blared from several television screens. Amanda Schmidt, 37, said she flew in from Seattle to cheer on her hometown team.
"I wanted to be in the city and experience the Super Bowl," she said. "I feel like I'm part of it. We're all connected, so it's really cool."
The 13-block-long Super Bowl Boulevard that ran through Times Square was already almost entirely gone by halftime. Flatbed trucks and forklifts were dismantling the booths and television sets for television networks. The toboggan run was gone, along with the many corporate-sponsored tents that had lined the streets.
The Associated Press contributed to this report.