Trade-happy Chiefs move up four times to nab draft targets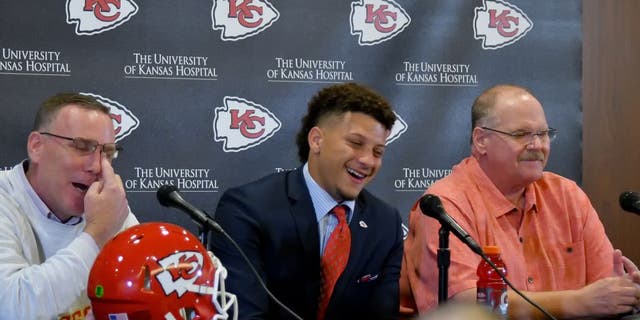 KANSAS CITY, Mo. -- The Kansas City Chiefs headed into the NFL draft last week with 10 selections spread across seven rounds, the massive haul due in large part to an abundance of compensatory picks.
With a roster returning mostly intact, there was little chance 10 draft picks could make their 2017 roster.
General manager John Dorsey aggressively began working on trades even before the draft. By the time things settled Saturday, he'd pulled off four of the record number of swaps in this year's draft, choosing six players he believes will help Kansas City not only this season, but for several seasons to come.
"I tried to read as much as I could in terms of reading the other 31 teams and see where they were positioning," he said after pulling off his biggest trade, sending two first-round picks and a third to Buffalo to jump up 17 spots and select quarterback Patrick Mahomes at No. 10 overall on Thursday.
The next night, Dorsey sent a trio of picks to the Vikings to move into the third round and take Toledo running back Kareem Hunt. The move addressed one of the Chiefs' biggest weaknesses last season by bolstering their running back corps with a record-setting prospect.
Then on Saturday, Dorsey traded backup tight end James O'Shaughnessy and a sixth-round pick to the Patriots to jump into the fifth round and nab Georgia Southern linebacker Ukeme Eligwe. The Chiefs then called the Vikings again and sent them their other two fifth-round picks to land in the fourth round and take Michigan wide receiver Jehu Chesson.
The net result of all that dealing: a potential franchise quarterback, a running back capable of playing immediately, a linebacker to one day replace veteran Derrick Johnson and a wide receiver who could one day make life a whole lot easier for Mahomes.
"Just the way it goes," Chiefs area scout Pat Sperduto said. "Guys were getting plucked from all different spots on the board. You just, like John says, 'You let the board talk to you.'"
The Chiefs picked two other players with original selections, defensive end Tanoh Kpassagnon from Villanova in the second round and Southern California safety Leon McQuay III in the sixth round.
That makes six draftees from their original 10 picks, all likely to make the team.
This was the first year teams were allowed to trade compensatory selections, which are awarded to teams thatlose key free agents. That was a big reason there were so many swaps across the three days of the draft, and why the Chiefs had so many selections to begin with.
They were awarded picks in the third and fourth rounds, and two more in the sixth round, after losing cornerback Sean Smith, quarterback Chase Daniel, safety Tyvon Branch and offensive lineman Donald Stephenson last offseason. Those extra picks gave the Chiefs the firepower to move around when they saw a deal to be made -- something Dorsey called a luxury even before the draft began.
"It's better than the opposite," he said with a smile.
Brian Spurlock | Brian Spurlock-USA TODAY Sports
Dorsey has always maintained he's open to moving up and down in the draft, so long as it helps the Chiefs. But he's been hamstrung early in his tenure by unique sets of circumstances.
Upon his arrival, the Chiefs were so desperate for a quarterback they traded two second-round picks to San Francisco for Alex Smith -- premium selections out the door. And last year, they were stripped of third- and sixth-rounders as punishment for tampering in their pursuit of then-free agent wide receiver Jeremy Maclin a couple years ago.
In other words, this was arguably the best chance Dorsey has had to showcase his ability to deal.
Whether all those phone calls will pay off may not be known for years.
Dorsey and coach Andy Reid acknowledged Mahomes will have to learn behind Alex Smith for at least a year and possibly two. And while Hunt should be counted upon immediately, Kpassagnon is raw and Chesson will have to learn the intricacies of Reid's complex offense.
Even so, the Chiefs came out of their draft pleased with their haul.
"I'm a big fan of accumulating draft picks because it gives you flexibility," Chiefs chairman Clark Hunt said. "In a lot of ways you could look at this draft and see the flexibility we had with 10 picks, which made it easier for us to make the decision to give up a couple picks to move up. That just shows you the benefit of accumulating those picks when you can."