Trabzonspor player shows referee a red card, then gets one of his own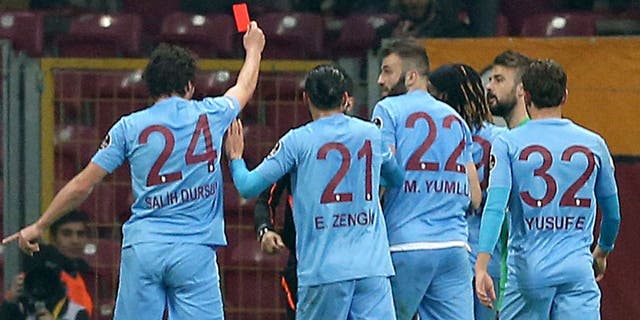 Trabzonspor's Salih Dursun did what every player has secretly wanted to do to a referee after a questionable call.
In the last minutes of the Turkish Super Lig match between Galatasaray and Trabzonspor, the referee showed a red card to Trabzonspor's Luis Cavanada and called a penalty in favor of Galatasaray.
The game was 1-1, and two Trabzonspor players had already been shown red cards. As one would imagine, tempers were flaring.
After the ref showed Cavanada red, the card got knocked from his hand and Salih Dursun could not resist.
Watch:
Unbelievable, right? Of course, that is not exactly tolerated behavior and Dursun got himself a red as well. If you're counting at home, that's 4 red cards to Trabzonspor.
The resulting penalty gave Galatasaray the go-ahead goal and the 2-1 win.
H/T 101 Great Goals