Tough outing aside, Gray still in Cy Young mix for A's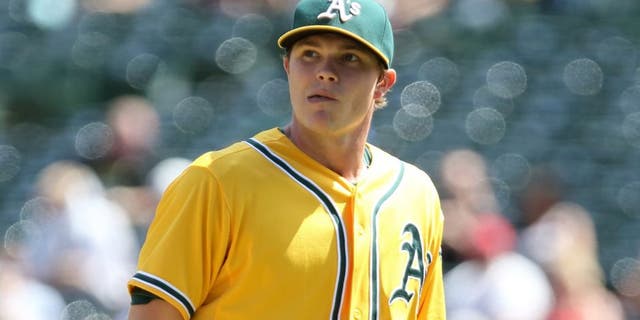 NEWYou can now listen to Fox News articles!
On Wednesday afternoon, one of those 'baseball things' that happen without rhyme or reason took place at O.co Coliseum: Oakland Athletics ace Sonny Gray was roughed up by the Los Angeles Angels for six runs over the first two innings of the game.
Having entered the game with an AL-best 2.13 ERA, Gray finished the day with a 2.36 - nothing to scoff at, but behind Houston Astros ace Dallas Keuchel's 2.24.
Despite the six early runs, Gray salvaged his afternoon with with three scoreless innings of work...but the damage was done.
Gray is still in the mix as far as the AL Cy Young Award is concerned, though he hasn't won a game since August 7. Still, the uncharacteristically bad game from Gray didn't concern manager Bob Melvin. "Sometimes your best guys are going to give up some hits," Melvin told MLB.com's Jane Lee. "Some of the pitches they hit were good pitches, a couple of them were up, but I didn't think, overall, his stuff was too bad."
Gray didn't say much about his struggles, but credited the Angels for their approach: "I felt fine. I didn't think all the pitches I made were that bad, but they put some good swings on the ball and had four runs before you knew it."
Lee notes that Gray should make at least six more starts before the season ends, so he'll have opportunities to bump up his Cy Young resume further.
Keuchel is probably considered the frontrunner for the honor due to his irreplacable presence on the first-place Astros, but Gray is still having a remarkably strong season for the last-place A's.